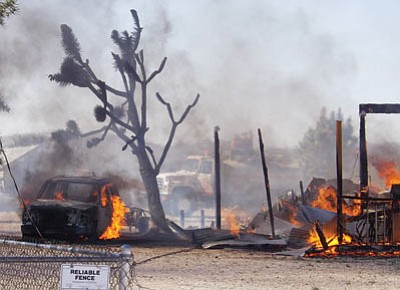 Originally Published: March 9, 2015 3:47 p.m.
DOLAN SPRINGS - A woman and her pets escaped from their burning home Friday in Dolan Springs before fire destroyed the structure.
Firefighters with the Lake Mohave Ranchos and Northern Arizona Consolidated fire districts responded to the fire in the 18000 block of Paloma Drive at about 1:40 p.m.
Heavy smoke and flames were coming from the doublewide mobile home with an addition by the time they arrived and the fire was too intense to mount an interior attack, said Northern Arizona Consolidated Fire Chief Patrick Moore.
A vehicle at the home also burned and firefighters kept the fire from spreading to adjacent properties.
Fire investigators determined an electrical short caused the fire and damages were estimated at $84,000.
No injuries were reported. The Red Cross is assisting the homeowner, said Moore.