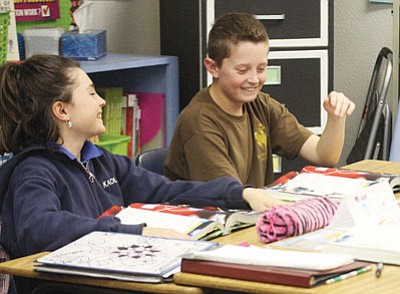 Originally Published: March 10, 2015 6 a.m.
KINGMAN - Susan Chan and Brownell Hamlyn can still remember the startup of the Kingman Academy of Learning charter district like it was yesterday.
Chan, who is district administrator of KAOL, and Hamlyn, its business manager, were there when the district was formed in 1995. It was one of the first 12 charter districts in Arizona, and quickly took shape after the state Legislature passed a law in 1994 authorizing them.
Charter schools are state-funded public schools that contract with the state or district to provide tuition-free educational services. Their funding is based on student attendance and donations from the public.
At the time, Hamlyn was business manager for the Hackberry School District, and Chan was principal of Kingman High School south campus, which was located downtown. Both were approached by Chan's mother, Betty Rowe, a retired Hualapai Elementary School principal who wanted to start a charter district.
Rowe, now 78, has been the district's director since its inception and continues to serve in that capacity.
"Betty said that if she had the freedom to foster the four goals she believed in, she would like to start a charter district," said Hamlyn. "And that's what she did. Everyone pulled together to help her, and it was so neat because there was such a big buy-in to this new district."
KAOL is celebrating its 20th anniversary this week with progressive festivities at each of the four schools. There will be food and beverages, as well as various activities at each campus, from art displays and music to a cakewalk. The events are free and open to the public.
The charter district, which originally received a $30,000 grant to equip it, has grown over the years, beginning in 1995 with 230 students and 20 employees, of which 12 were teachers. This year, there are 1,450 students and 145 employees, with 75 of those being teachers.
KAOL has expanded its grade levels over the years, too, starting with preschool through sixth grade in 1995, then adding seventh grade in 1996, eighth grade in 1997 and ninth through 12th grades in 2001. There are now four schools, an administration building and a bus shelter.
The district's budget has risen from $800,000 in 1995 to $10 million this year, and it moved in 1998 to its current 13-acre location on Burbank Street. KAOL had leased a building downtown from Mohave Union High School District, and then set up classes at First Southern Baptist Church and Praise Chapel.
Partners
Partnerships with the community were crucial in outfitting the charter district, said Hamlyn, and because Kingman was such a small city, businesses reached out to help. The only bank willing to work with the new district was Mohave State Bank, said Hamlyn, and because it took that chance, it is the only bank the district uses today.
Rowe's vision of providing basic education to the students also was critical in ensuring the charter district's success, said Chan. Rowe's four original goals were academic excellence, good student attendance, parental involvement and high standards for student behavior.
In 2000, Chan, who has worked as a teacher and principal, was promoted to district administrator and immediately began working toward adding a high school, which opened in 2001. Chan said it was difficult for KAOL students leaving the smaller middle school to transfer to Kingman High School, which had about 1,800 students.
The challenge at the upper level is for the high school to be competitive in the community but remain true to the charter district's four goals, said Chan. It's also providing enough programs at the school to attract students and partnering with Mohave Community College for even more.
"For a small school, we do a great job of providing opportunities with a focus on how we can prepare students for life," said Chan. "I think we made wise choices at the beginning and have learned what works and doesn't work for our children.
"I think Kingman Academy of Learning is going to be around for a long time."
More like this story