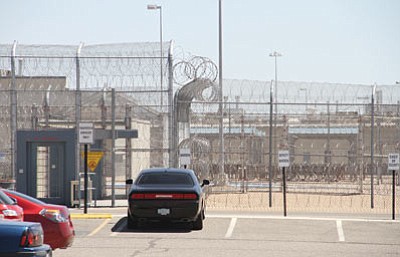 Originally Published: March 11, 2015 1:56 p.m.
KINGMAN - A tearful Casslyn Mae Welch was sentenced Wednesday to 20 years in prison for her key role in the 2010 escape of three men from Arizona State Prison-Kingman that led to the murder of an Oklahoma couple.
Welch was the last of four people to be sentenced and Wednesday's hearing closed the book on a tragic case that began more than four and a half years ago.
"I deeply apologize to all of my victims," said Welch in a soft voice, when Judge Steven Conn gave her the opportunity to speak.
Welch began to cry and paused for a moment before she added, "Nothing was supposed to go wrong or bad."
But bad things did happen in the days following the July 30, 2010 escape of John McCluskey, her cousin and significant other who was serving a 15-year term for attempted murder and other convictions. With him were Tracy Province and Daniel Renwick, both convicted killers who were serving a life sentence and 44 years, respectively.
The term Welch received in Mohave County Superior Court was likely academic, as it's possible she will never set foot in an Arizona prison.
Convicted last summer for her role in the shooting deaths of Gary and Linda Haas in New Mexico shortly after the escape, Welch was sentenced to a 40-year-term in federal prison.
While Conn technically sentenced the 48-year-old woman to a total of more than 40 years - two 20-year terms for armed robbery and a 30-month term for escape, her actual sentence is two decades, because Conn honored the plea agreement Welch signed in 2011. The deal called for her Mohave County sentences to run concurrent with one another, and that also they run concurrent to her federal sentence.
According to the federal Bureau of Prisons, Welch is due to be released in 2045.
"I wish I stopped it before I even started it," she said.
On the night of July 30, 2010, Welch donned camouflage clothing and walked across the desert to the prison fence.
She had guns and cutting tools, which she threw over to McCluskey and Province, who spent months plotting the escape. Renwick, who was unaware of the plan, made himself part of it when he saw what was happening.
Renwick got to the getaway car Welch parked near the prison and took off before the other three arrived.
Left afoot, Welch, McCluskey and Province walked several miles across the desert before they reached Interstate 40, where they hijacked two men resting in a parked tractor-trailer and forced them to drive to Flagstaff. The men were released unharmed.
Welch pleaded guilty to two counts of armed robbery for the crime, one for each victim.
While that was a serious offense, Welch's fate was truly sealed when the trio kidnapped the Haas couple, who were pulling an RV as they headed from Oklahoma to Colorado for their annual vacation.
McCluskey was convicted of killing the couple and burning their RV with their bodies inside.
Welch and Province testified against McCluskey in his federal trial, but prosecutors took little mercy on either of them once they pleaded guilty: Province received a life term and Welch was given four decades. McCluskey avoided the death penalty and was sentenced to life plus more than 230 years. Renwick was captured in Colorado less than two days after the escape following a shootout with law enforcement officers. He is serving more than 60 years.
Conn, also per an agreement with attorneys on both sides of the case, gave Welch credit for more than 1,650 days she has spent in custody.