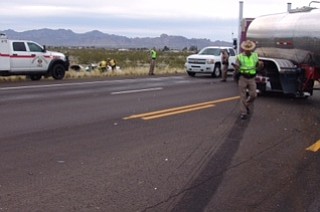 Originally Published: March 11, 2015 6:08 p.m.
GOLDEN VALLEY - A collision between a sedan and a semi-truck on Highway 68 Wednesday killed the sedan's driver, according to the Golden Valley Fire Department.
The semi-truck's driver was not injured.
Quoting witnesses, the fire department statement said the sedan pulled in front of the westbound truck and was hit almost immediately. The driver was declared dead at the scene.
The truck was hauling water.
Crews from the Arizona Department of Public Safety and the Department of Transportation kept traffic moving during the investigation, which lasted about 90 minutes.
The driver of the sedan was male, but no information about his identity was available Wednesday night.