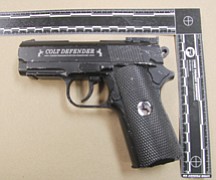 Originally Published: March 12, 2015 10:25 a.m.
KINGMAN - A 31-year-old man was shot and killed by a Kingman Police officer Wednesday night after he reportedly pointed a BB gun at another officer. The gun was designed to look like a semiautomatic pistol.
Ryan Dean Burgess of Kingman was reportedly punching holes in the walls of a home he shared with his mother in the 2200 block of Lucille Avenue when officers responded to the domestic violence call at about 9:45 p.m.
When Kingman officers Chaz Truver and Wayne Hollan arrived, Burgess reportedly walked outside and pointed the BB gun at Hollan.
Truver, a recent police academy graduate, has been in field training for several weeks. Hollan is a 14-year veteran and Truver's training officer.
Truver reportedly ordered Burgess to drop the weapon before he fired several rounds, killing the man, according to Mohave County Sheriff's spokeswoman Trish Carter.
Kingman Police contacted the sheriff's office to investigate the officer-involved shooting.
Carter said the CO2-powered gun was a replica of a Colt Defender 1911 semiautomatic pistol.
"The weapon is the exact same size, shape and weight of the real weapon," said Carter.
Hollan sustained a knee injury in the incident and was treated and released at Kingman Regional Medical Center.
While Carter said Truver fired several rounds, it is not known how many struck Burgess or where he was hit.
According to court records, Burgess was convicted of two counts of aggravated assault and sentenced to a prison term of more than five years in 2005. He was released in 2008 and had not been arrested in Mohave County since then.
Truver was placed on paid administrative leave pending the outcome of the investigation.
Burgess' body was transported to the Mohave County Medical Examiner's Office in Lake Havasu City. Carter said an autopsy has not yet been scheduled, but investigators believe alcohol might have played a role in the man's actions.