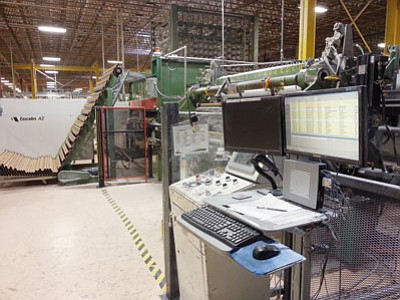 Originally Published: March 15, 2015 6 a.m.
KINGMAN - Notice your Internet running a little faster? That's no coincidence; it's part of a long stream of upgrades that both consumers and businesses can take advantage of now and in the future.
Suddenlink Communications announced earlier this month that customers have received speed upgrades to their existing Internet packages, with some getting over double the speed they were getting before. It's part of Suddenlink's plan to roll out gigabit speeds to nearly all their customers over the next three years.
They aren't the only company upgrading their back end. DSL provider Frontier Communications is rolling out their own upgrades neighborhood by neighborhood, and wireless provider Data-Max is testing new speeds for its customers.
This need for speed is part of the new data-driven economy, and Kingman will need to keep up to compete.
"A lot of businesses are online, and it has an impact on what they look for when they look (for a place to set up a business)," said Chuck Waalkens, member of the Economic Development Marketing Commission for the city of Kingman. He works as the operational supervisor for River Medical, and his group uses the Internet for communications online after their calls hit a repeater.
His company isn't the only one. Most businesses in town rely on the Internet in some way, some more than others. On a global level, there are correlations between Internet speed and economic growth. A report issued by Ericsson, Arthur D. Little and Chalmers University of Technology in 2011 showed that, in 33 of the OECD countries, doubling the speed of broadband increased GDP by 0.3% (or around $126 billion).
Even in smaller communities such as Kingman, upgrading the Internet's infrastructure and getting faster speeds to customers can have an effect on business and personal life. Keeping it running and up-to-date is up to the Internet Service Providers (ISPs), and their work has echoing affects on how we do business in town.
Bandwidth: Get up to speed
Unless you're actively monitoring your Internet bandwidth, understanding how bandwidth is measured can feel like mathematics homework. Fortunately, the math behind it comes down to simple conversions, and understanding one of the foundations of how your computer works can help you understand the information going in and out of it.
Internet service providers measure Internet speed in Megabits-per-second, or Mbps. A single bit is either a 1 or a 0, and combining these bits into 8-bit chains comprises a byte. To keep it simple, a byte can be thought of as a single character of text. This paragraph alone would make up 348 bytes (with spaces included), or 2,784 bits.
That means that, at a speed of 1 Mbps, one million bits can be transferred in one second. While that may seem like a lot of information, consider that an hour of Netflix transfers nearly 8 billion bits.
Here's some sample speeds required to perform some of the more popular data-intensive tasks:
• Skype (Video Calls) - 1.5 Mbps up and down
• Netflix (HD Video) - 5.0 Mbps down per stream
• Spotify (Audio) - 0.15 Mbps down
• Gaming (Xbox, PSF) - Minimal, although a low latency is required
Who needs speed?
For businesses, many computers operating simultaneously on one network requires significant bandwidth. For groups that transfer files such as video or multimedia often, that bandwidth need is compounded.
Cascades Tissue Group, located at the Kingman Airport Industrial Park, is one of those companies that requires significant bandwidth.
"Most manufacturing is computerized now," said Tiffany Ochiltree, human resources manager at Cascades in Kingman.
"Any downtime, outages, or blips in the service ... it affects us. It's complicated to bring it back up."
Most of Cascades' manufacturing equipment and computers on site communicate with centralized servers in Canada, with many computers operating as "virtual machines": terminals that do most of their computing remotely rather than locally.
This, compounded with rolling upgrades to SAP software, "increases their dependency on the network," according to Ochiltree.
Ken Smith, Cascades' ENI Technician, says the company operates on two T1 fiber lines through Frontier. T1 delivers a speed of 1.54Mbps, but each line can carry 24 different data and voice channels that do not share bandwidth. In comparison, a line to a home will share bandwidth with all the devices in that home.
Even so, Smith says the speeds fluctuate quite a bit.
"We tend to have some problems in the afternoon. Sometimes I can't connect to the server."
Mohave Community College utilizes a slightly different infrastructure. They use microwave point-to-point communications via Wecom's network to connect its various campuses, operating anywhere between 100 and 250Mbps. The school's Internet gateway, located in Phoenix, operates on a 250Mbps connection shared between the campuses.
Servers housing a webserver, portal for students, student email, and all essential services are located both in Phoenix and Las Vegas. In the future, however, the college would like to see those housed somewhere locally.
"One of the long term plans that has been presented by myself and other is to bring our Phoenix site to Kingman, because that would be our redundant backup site," said William Farmer, executive director of IT at Mohave Community College.
"If we have some other massive failure, we would have that equipment on hand and on site."
Supporting the few server racks needed for MCC is possible now. Hosting a decent sized data center in Kingman, however, may be too much for the current infrastructure, according to Farmer.
Current upgrades for consumer-level Internet may help with that infrastructure in the future, and organizations such as MCC recognize that potential.
"With the expansion of multimedia applications, everybody uses some form of it," said Farmer.
"The proliferation of those apps requires a larger amount of bandwidth amount. What people may not realize is that one or two people using the application might not seem like a stress, but 10,000 people using those applications have a much larger impact. Upgrades will definitely help out on a commercial level as well."
Upgrading their pipes
Keeping the bandwidth going on a wide consumer level is a non-stop endeavor. Here's what the ISPs in Kingman provide for consumers as well as their current upgrading efforts:
Frontier Communications
Frontier is Kingman's primary DSL provider. Its current consumer-grade speed tiers are as follows:
• 6 Mbps down, 0.75 Mbps up
• 12-20 Mbps down, 1.25 Mbps up
For businesses, Frontier General Manager Mark Abram states that "we can pretty much supply any speed anyone's looking for." The company works with clients to see what they need and what they can afford to find a "solution that fits today's requirements with expandability for future growth."
Customers have access to gigabit (1000Mbps, or 1Gbps) Internet, and Frontier currently supplies a 10Gig fiber transport feed to the Kingman Airport. According to Abram, the company spent $5 million in plant improvements and are "on track to match that in 2015."
Upgrades in the Rancho Santa Fe area were just completed in December, and the company looks to upgrade around the golf course over the next two months.
Suddenlink Communications
Suddenlink is Kingman's cable provider. Its current consumer-grade speed tiers are as follows:
• 50 Mbps down, 5 Mbps up
• 75 Mbps down, 7.5 Mbps up
• 100 Mbps down, 7.5 Mbps up
• 150 Mbps down, 15 Mbps up
Suddenlink recently announced its three-year plan to upgrade its networks to support gigabit speeds on a "city-by-city" basis. Their project, "Operation GigaSpeed," will cost $250 million over their entire network. It is uncertain at this time how much the upgrades in Kingman will cost.
For businesses, Suddenlink operates much like Frontier in that it offer customized packages depending on customer needs.
"Suddenlink already offers its business customers a range of custom services capable of multi-Gigabit speeds," said Gene Regan, senior director of corporate communications at Suddenlink.
"With symmetrical speeds scalable to 10Gbps, we offer services that are capable of meeting business customer needs now and well into the future."
Wecom and Data-Max Wireless
Wecom serves Kingman via microwave radio and through wireless via their Data-Max service. Data-Max's consumer-grade speed tiers are as follows:
• 1.5Mbps down, 768k up
• 4Mbps down, 1.5Mbps up
• 6Mbps down, 2Mbps up
Wecom's networks are "engineered with FCC licensed Microwave Radio with 99.999% reliability, interconnecting with some of the largest Tier 1 networks in North America," according to Kristopher Minnich, network manager at Wecom.
Those radios can provide speeds from 25Mbps to 1Gbps and are effectively a private connection to a business. The network is also built off of "redundant paths which do not touch the networks of competitors," which means that their network doesn't use the same method of transport as cable and DSL. It can act as a secondary, or primary, provider in the event communication locally went offline.
Data-Max is currently beta testing 10Mbps and 20Mbps wireless services with ultra-low latency, rolling out throughout the year.
Click for home delivery with comics, grocery deals, inserts, TV listings, coupons and more