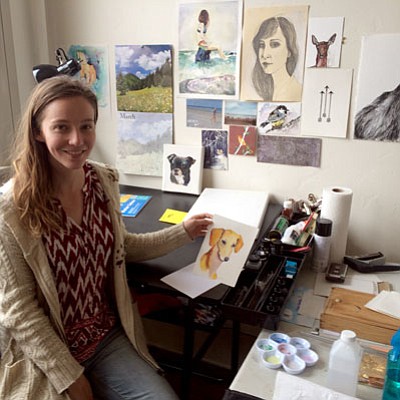 Originally Published: March 16, 2015 6 a.m.
KINGMAN - Sally Strom has worked as an artist-in-residence across the country and said her accommodations at the ArtHub, developed by homebuilder Doug Angle in the Central Commercial Building, are of the highest quality she's ever seen.
Strom, a painter, photographer and videographer from Portland, Ore., is one of three artists selected to be the first to live rent-free for four months in lofts above the studio at 412 E. Beale St.
"This place is beyond beautiful," she said. "The living quarters are like timeshare condos. The counters are made out of marble."
Angle spent roughly $120,000 renovating the studio and building five lofts at ArtHub, which opened Feb. 1 in a portion of Central Commercial Building that was once a bank and various other businesses in downtown Kingman. It was built in 1917.
In exchange for their living quarters, artists teach free classes and workshops and talk with local residents and tourists about their artistic inspirations.
Each artist occupies a minimal amount of undefined space in the 1,300-square-foot studio, setting up their work area with desks and tables and displaying some of their artwork on the walls.
Art supplies and utensils are stored in the bank vault, converted to a closet, behind a 300-pound steel door.
Select works of local artists such as Ed Morago and sculptor Bill Dickinson are also on display at ArtHub.
"It kind of gives Kingman a center for cultural activity," said Seth Angle, a local artist who came up with the idea and presented it to his father. "There's a lot of stuff here that celebrates the past, which is good, but at the same time we need a place to go and see things made by people today.
"Honestly, if we want to revitalize downtown, there's no better way to be vital than to celebrate what's happening now."
What's going on
ArtHub is open 11 a.m. to 7 p.m., Tuesday through Thursday, and 1 p.m. to 9 p.m. Friday and Saturday. Classes and workshops are held at 2 p.m. Saturday, and free foreign and art films are shown on certain Friday nights. Check the website at www.kingmanarthub.com for a listing of events.
Strom, who has a Master's in Fine Arts from Massachusetts College of Art, led four lessons in February on painting plexiglass portraits. She teaches a "fun trick" of tracing each other's faces and placing a color overlay on the drawings. She said it was a "blast" and workshop participants left with a finished piece of framable work.
"Last week we did music movement where they listen to it and do body movements," Strom said. "You're using all of your senses to create, feeling it in your body, hearing it and writing a few words."
While at ArtHub, she is continuing with her "Shakey Takey" photographs and paintings of the area.
Amy Reed, children's book writer and illustrator from Georgia, led a class last Saturday on "Fantasy Drawing." She encouraged students to create mythical creatures from their own imagination. She has a group of young girls who attend classes faithfully, as well as some adults.
April is Literary Month, so she'll be teaching classes on writing fiction and poetry.
"It's spacious and a great place to get some work done," Reed said about ArtHub. "I feel very focused and I also enjoy meeting and talking to people who come in. Just today I talked to a man about his literary interests."
Taking shape
The ArtHub is still in its infancy and trying to find its place in Kingman's art community, Angle said. In addition to classes, ArtHub is home to a gallery that will showcase work from the artists-in-residence.
"We're more of a studio. There's artwork to see, but it's more of an open studio."
Click for home delivery with comics, grocery deals, inserts, TV listings, coupons and more
More like this story