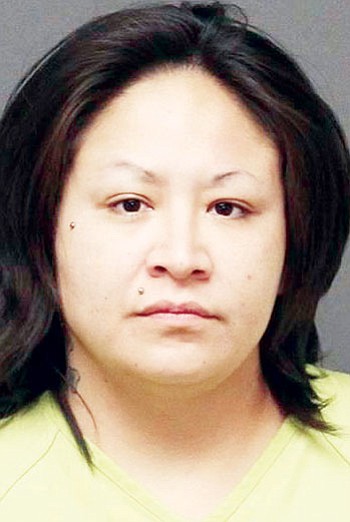 Originally Published: March 16, 2015 6 a.m.
KINGMAN - A 30-year-old Kingman woman faces felony charges of aggravated assault on a police officer after Kingman Police responded to a domestic violence incident Wednesday afternoon.
Adriana Lee Paul allegedly threw objects at a 57-year-old man and broke items at a home in the 500 block of Sunrise Avenue when police were called at about 3:45 p.m.
Paul, according to Kingman Police spokeswoman Jennifer Sochocki, refused to follow officers' commands.
She allegedly hit three officers, using her hands and feet, causing minor injuries.
An officer shot Paul with a Taser, but it didn't faze her, said Sochocki.
Paul was eventually taken into custody. Kingman Fire Department paramedics treated her for minor injuries.
The three officers sustained multiple abrasions and bruises, said Sochocki. Alcohol might have been a factor in Paul's behavior, said Sochocki.
Paul was charged with three felony counts of aggravated assault on a police officer and misdemeanor charges of disorderly conduct by domestic violence and resisting arrest.