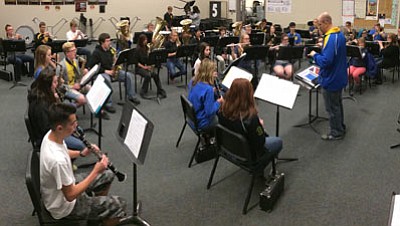 Originally Published: March 17, 2015 6 a.m.
KINGMAN - The Kingman High School wind ensemble received the highest rating of "Superior" at the Arizona Area Concert Festival in Flagstaff on Feb. 27, qualifying the group for state competition for the fourth consecutive year.
This is the first superior rating for the wind ensemble in over 20 years.
"I'm really proud of the kids on this one," said Michael Schreiber, director of bands at Kingman High School. "It's hard to get a superior rating in concert band, and the fact that it hasn't happened since 1992 is a great thing for these kids and their efforts."
The band won't be attending the festival due to budget constraints. However, the band will be playing at three more concerts in Kingman this school year:
• 7 p.m. April 1: The Kingman High School Showcase at KHS
• 7 p.m. April 21: The Kingman Unified School District Festival at Kingman Middle School
• 7 p.m. May 13: Wind Ensemble Concert at KHS (with jazz band performing the night before).
Kingman Middle School
Kingman Middle School competed at the Northern Arizona Junior High Solo and Ensemble festival the following day, Feb. 28, in Prescott. Thirty-four students from KMS attended the festival for the solo competitions, with judges assessing musicians based on pitch, rhythm, technique, interpretation and musical artistry.
Thirteen students received ratings of "Superior" and eight received ratings of "Excellent." Fourteen students also earned a spot in the Northern Arizona Regional Middle School Honor Band, tying Sinagua Middle School in Flagstaff for sending the most representatives.
"Since January these young musicians have been practicing for the regional auditions, pushing themselves to be at their highest level of technical accuracy for the February festival," said Julie Gragg, music coordinator and band director at Kingman Middle School.
More like this story