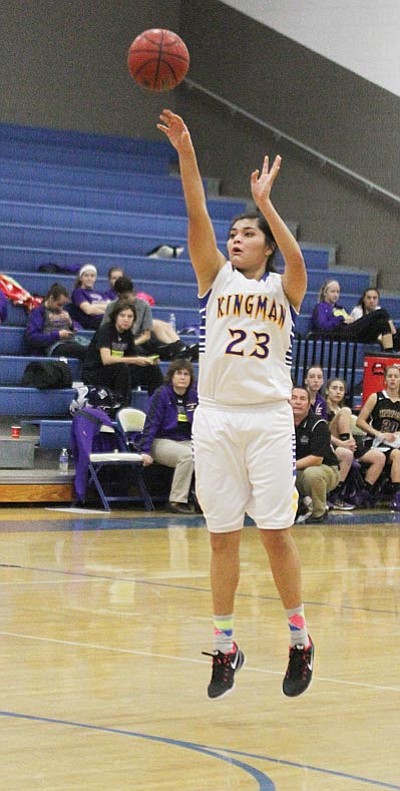 Originally Published: March 20, 2015 6 a.m.
KINGMAN - After leading all divisions in the state in scoring with 29.7 points per game, Kingman High's junior sharpshooter Desirae Gonzalez was named to the 2014-2015 Division II Girls Basketball First Team by 35 coaches.
Gonzalez has already won section and Colorado River Region player of the year awards, but she's not the least bit phased by the accolades.
"Getting acknowledged is great, but it's not like I'm living for the awards," Gonzalez said. "I don't really focus on them. They're nice to have, but I don't really pay much attention to them."
What she does focus on is the future.
"Getting better. Basketball season is over, and I'm starting to play with a club team," she said. "When you play with different girls it shows even more what you need to work on. You get better in the off-season. It's all about working toward next season, which is my last season (of high school). Oh, jeez."
Gonzalez also averaged 10.7 rebounds, 4.9 steals, 3.4 assists and 1.7 blocks per game for the 18-9 Lady Bulldogs. All that is starting to gain the attention of colleges.
"There are some colleges popping up here and there," Gonzalez said. "More are showing up now that it's after my junior year. But I still don't know where I want to go. I'm going to sit down with my parents and figure out where I want to go by regions and take it from there."
However, there are a couple of schools that if they made Gonzalez an offer, she would quickly accept.
"Notre Dame and Duke," she said. "Those are my absolute dream colleges. I don't even know what I would do. Probably break down with excitement."
On the boys side, Kingman Academy's Henry Chinyere and Breyden Potter, and Lee Williams' Giancarlo Narvarte, were named as Division III honorable mentions.
Chinyere averaged 10.5 points, 5.4 rebounds and 4.8 assists per game for the 21-6 Tigers. Potter led the Academy with 12.2 points and 10.2 rebounds, and also had 2.3 assists per game.
Narvarte averaged 13.3 points, grabbed 10 rebounds and blocked 8.7 shots for the Volunteers. Narvarte shot 63 percent from the floor.