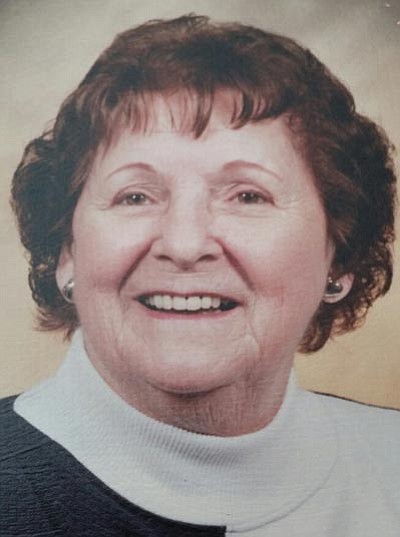 Originally Published: March 20, 2015 6 a.m.
Pauline Valentine (Parisee) Tripp, 85, formerly of Kingman, daughter of the late Edouard and Valentine (Ross) Parisee, joined our Lord on March 6, 2015. She passed away surrounded by family, in Oceanside, Calif., from complications of lung cancer.
Pauline was born on Oct. 1, 1929, in Fall River, Mass. She was the youngest of 11 children. She was active in the Watuppa Grange and worked for the city of Fall River. She married Wallace J. Tripp Sr. on Sept. 4, 1948. They moved to California in 1956 and retired to Kingman in 1993. They celebrated 57 years of marriage until his death in 2005. They enjoyed a full, happy life together and loved taking cruises, traveling to more than 20 countries abroad.
She was a homemaker for many years and then began a 20-year career with General Telephone, retiring in 1986 as an engineer. She was an avid line dancer, an excellent seamstress and cook, a fan of chocolate and flowers, loved playing the piano and gardening, and was an active member of the Catholic church with her husband.
Pauline was the beautiful, beating heart of her family. Her love and kindness abounded, her smiles, warmth and laughter unlimited, and her amazing cooking was plentiful. She will be missed by too many to name.
Survivors include daughters Paula Jackson of Golden Valley, Noreen (Stephen) Hudson of Palm Desert, Calif., Robin (Cary) Spillman of Oceanside, Calif.; a son, Wallace (Dee) Tripp, Jr. of Auburn, Calif.; and sister Rita Kennann, California.
She is also survived by brother-in-law John (Grace) Tripp, Jr. and sisters-in-law Lucy Lord and Sharon (Rick) Mudge, all from Westport, Mass.; Gertrude Reed of Fall River, Mass.; and Juliette Fridley of Ocala, Fla.
She was the sister of the late and Rose Lesnick, Loretta McCormick, Irene Brady, Doris Shurtleff, Bernadette Schmidt Debus, Leo, Armand and Edward Parisee, and Peter Ross.
She is survived by 10 grandchildren, 10 great-grandchildren, as well as many nieces and nephews.
A vigil will be held at Eternal Hills Mortuary, Oceanside, Calif., from 5-9 p.m. Thursday, March 26. Funeral Mass will be conducted at the Historic San Luis Rey Mission, Oceanside, Calif., at 1:30 p.m. Friday, March 27, followed by a dove release. A reception will follow at Fratelli's Restaurant, Oceanside, Calif. from 2:30-5:30 p.m.
Final interment will be alongside her husband at Maple Grove Cemetery, Fall River, Mass.