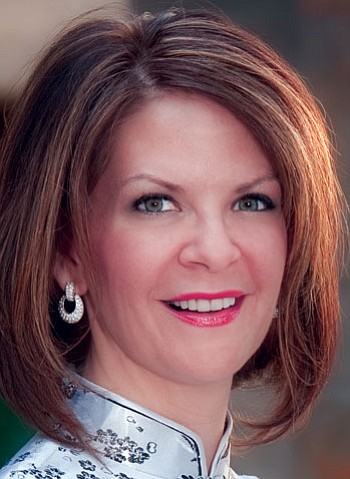 Originally Published: March 22, 2015 6 a.m.
KINGMAN - While U.S. Sen. John McCain hints at running for a sixth term in 2016, Arizona State Sen. Kelli Ward is testing the waters to dethrone the political power and bring a fresh approach to representation in the nation's capital.
Ward, R-Lake Havasu City, issued a statement last week that she's been encouraged by friends and constituents to run for U.S. Senate and she's "seriously considering" it.
"Arizonans are looking for a change after almost 30 years and they are looking for someone who will represent them and their interests," Ward said. "They are looking forward for someone to be their voice. Many believe I am that person."
It's going to be an uphill battle for Ward, a conservative who was elected to her second term in the state Legislature last year.
The family doctor, whose Senate district includes Kingman and Golden Valley, doesn't have much name recognition outside of Mohave County and she's at a huge disadvantage in campaign financing. A run for U.S. Senate would require "tremendous contributions" from her supporters, both in time and money, she acknowledged.
If she went to Washington, Ward said she would fight to stop the Affordable Care Act, work to secure the nation's borders and push for smaller government.
One of Ward's biggest hurdles is matching McCain's deep pockets, said Jon Winder, political activist and leader of the Libertarian movement in Kingman.
"It's going to be hard for her to drum up the kind of financial support McCain has," Winder said. "She seems very popular among rural conservatives in Mohave County and that could carry into other rural areas, but the next challenge she faces is the metropolitan areas and the increasing number of Democratic voters in the state."
On the positive side, Ward, 46, has made a name for herself in the state Legislature and that could give her a strong push for the U.S. Senate race. She sponsored more than 40 legislative bills, including expansion of craft breweries, banning traffic citation cameras and restoring gun rights.
Big shoes to fill
McCain, a Vietnam War veteran from Virginia who moved to Arizona to run for office, is a stalwart in Washington and was popular enough to win the Republican nomination for president in 2008.
His "shoes are pretty big to fill," Winder said.
McCain also has the advantage of being the incumbent, the majority of which are re-elected to office over a relative newcomer.
The field of candidates willing to challenge McCain is quite shallow, with Rep. Dave Schweikert, R-Ariz., saying he's "leaning against" running, and Rep. Kyrsten Sinema, D-Ariz., brushing off any such speculation.
U.S. Rep. Matt Salmon, R-Ariz., has emerged as the frontrunner supported by leading conservatives on Capitol Hill.
McCain was challenged by J.D. Hayworth in 2010, and spent about $24 million left over from his presidential campaign to beat the primary challenger. His victory wasn't as convincing as it appeared. A third candidate, Jim Deakin, drew 10 percent of the vote.
"Sen. McCain is strongly leaning toward running for re-election. In the meantime, he's taking all the necessary steps to be ready," spokesman Brian Rogers said in an email to the Daily Miner. "Anyone contemplating a primary challenge would be well-advised to consider what happened in 2010, when Sen. McCain crushed former Congressman J.D. Hayworth by 24 points."
If he decides to seek re-election, McCain will run on his strong conservative record on fiscal and national security issues, leading the fight against President Obama's dangerous foreign policy as Chairman of the Senate Armed Services Committee, and advancing vitally important Arizona job-creation priorities such as the Resolution Copper mine, Rogers added.
$10 million shot
Larry Schiff, president of the Conservative Republican Club of Kingman, said it's going to be difficult for Ward to oust McCain, but he's not counting her out. Everyone has underestimated her, including himself, he said.
"When she first ran (in 2012), I thought she should have run for representative, not senator, and make a name for herself and move up," Schiff said. "So I put nothing past her. She has become much, much better known than anyone else from this area in Phoenix, and I have often heard of her described as a rising star."
McCain spent big in 2010, so he likely won't have as much firepower this time around.
Still, it's going to take at least $10 million for Ward to have a chance, Schiff said.
The primary electorate in Arizona is heavily conservative, and there is widespread unhappiness with McCain, the local Republican leader said. He's seen polling that shows Salmon beating McCain 40-34 in Arizona.
"The one thing that gives me pause about McCain is that if this is a pure foreign policy election, McCain is now the head of the Armed Services Committee," Schiff noted. "Up here in Mohave County, we have a strong Ron Paul contingent that detests John McCain, but in Maricopa County, there are a ton of retired vets who support him.
"In a close election, the terrorism in the news might make him difficult to beat."
Ward has been a "marvel" as state senator and presents herself extremely well, Schiff added. She responds in a timely manner to Facebook messages and attends a lot of local meetings.
One way or another, she's "going places," Schiff said.
Click for home delivery with comics, grocery deals, inserts, TV listings, coupons and more