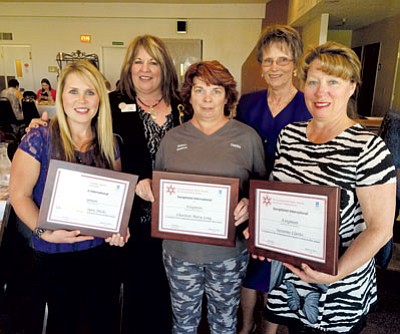 Originally Published: March 22, 2015 6 a.m.
KINGMAN - On March 19, Soroptimist International of Kingman recognized two sets of award recipients sponsored by the club: the Ruby Award for Women Helping Women, and the Live Your Dream Scholarship for Education and Training.
The Ruby Award is handed out each year to women who work to improve the lives of women and girls in their communities. This year the club recognized three women and awarded each of them $250. The women then turned and donated the money to their organizations. They are:
• Suzanne Clarke, executive director for the Kingman Aid to Abused People.
• Jamie Hicks, who works for her private faith-based counseling group, A Season for All Counseling. She was recognized for her work with the Advice and Aid Pregnancy Center
• Charleen Long, who works for the Jerry Ambrose Veterans Council in Mohave County as the Women's Resource Chair.
The Live Your Dream Award from Soroptimist provides women who serve as the primary wage earners for their families with the financial resources to offset costs associated with their efforts to attain higher education or additional skills and training.
• Kathy Ferneau received the second place award of $1,500. She is a nursing student at Mohave Community College. She will graduate in a few months and pursue her RN. The money will help with travel expenses between schools in Lake Havasu and Las Vegas, as well as licensing and fees for testing.
• The first place award of $2,500 went to Sara Cordes. She is a working mom who was trying to make ends meet after losing her job at Walmart. She now attends Mohave Community College for her CDA certificate so she can work at the daycare her daughter, Breeanna, attends. She will then go on to pursue a degree in childhood education. The money will help with living costs and tuition at MCC.
For more info on Soroptimist, go to www.soroptimist.org.