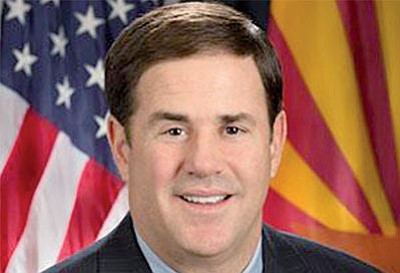 Originally Published: March 24, 2015 6:02 a.m.
PHOENIX - Arizona Gov. Doug Ducey on Monday asked the state Board of Education to thoroughly review the state's Common Core school standards but fell short of calling for them to be scrapped.
Ducey told the board the standards should be adjusted as needed to serve Arizona students.
But he won't support a legislative effort now underway to eliminate them.
Instead, he called for the board to begin a review that would involve parents and teachers from across the state.
"And it's normal to have a review of the standards process," Ducey said. "I think this has become a real distraction in our state, and you see it across the country."
The board adopted the standards for language arts and math in 2010, and they're now fully implemented in Arizona schools. But they have become heavily politicized in recent years, with opponents criticizing them as driven by the federal government.
Proponents say they are state-created and ensure students are prepared for college and careers.
Arizona and more than 40 other states helped draw up the standards.
The governor's call comes as the Legislature considers a bill that would eliminate Common Core and force the Board of Education and a new committee to come up with completely new standards.
Ducey rejected that.
"I don't think that legislation's necessary because we're going to fix what's wrong with these standards," he said. "We are going to set our own standards, and we're going to take charge of them here in Arizona."
He did not give any examples of criteria he considered misplaced, but he noted that standards requiring third graders to be able to read and do multiplication tables are secure.
He also said a new student assessment test called AzMerits adopted by the board late last year to replace the state's AIMS tests will remain in place.
"AzMerits is going to be in all our schools, and it's going to continue to be in our schools," he said.
Ducey said during his 2014 campaign and after taking office in January that he believed Arizona should have its own standards rather than a model based on national standards. But he never specifically said whether he wanted Arizona out of Common Core.
The issue for Ducey is that some federal funding is tied to the standards, a connection he said has led to them becoming highly politicized.
"I just spent the last year in every part of our state, and there's a lot of misunderstanding around this," Ducey said. "I think it's because of the very real fact that Washington, D.C., did get involved in the funding, that we do have to go to the federal government for waivers for much of the No Child Left Behind that we don't want to apply in our schools."
That 2001 law backed by then-President George W. Bush ties some school funding to performance.
"I think that we as a board can work, can do the kind of review that you're asking for," board President Greg Miller told Ducey. "The current standards have been in place now for five years, and typically we have a review process that does that."
Ducey responded, saying "I would ask that you open this to teachers and parents that want to be involved in this so they can see the process of how these standards are decided, so we can put this distraction behind us and focus on the improvement and results."
Ducey last week appointed five new members to the 11-member board. At least one ardent Common Core opponent is among those appointed, but another is a school superintendent who helped craft the math portion of the standards.
The board's members also include state Superintendent of Public Instruction Diane Douglas. She campaigned on a call to ditch Common Core, but she recently has said she wants to adjust it. She was absent Monday.
The state Senate last year rejected efforts to do away with Common Core and last month voted against an anti-Common Core bill. But a House bill is still moving through the process.
The 2010 standards were approved after numerous public meetings, and Ducey said reopening the process doesn't mean the same is necessary for every issue that becomes politicized.
"This is different than every policy - this is education policy and this affects child and every parent that has a child in schools," Ducey said. "And like I said, when you have this level of anxiety and confusion around something that's meant to be a good idea, something's wrong. So we need to fix what's broken ... But we're going to get the things out that allow the Washington involvement that have caused the confusion."