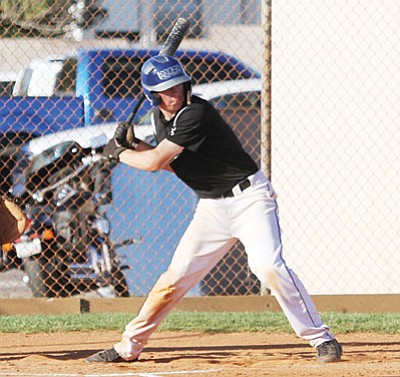 Originally Published: March 26, 2015 6 a.m.
KINGMAN - Behind the strength of a seven-run third inning, Kingman Academy put the 10-run mercy rule into effect after five innings of play in a Section II contest against Tonopah Valley (0-6, 0-2) Tuesday at Southside Park, 11-1.
Senior Caleb Boyett led the Academy (5-1 D-III, 2-1 Section II) both at the plate and on the hill. Boyett went 2-for-3 with three runs scored and two runs batted in. He also pitched all five innings for the Tigers, surrendering one earned run on three hits and no walks. He struck out five.
The Tiger defense helped out Boyett's efforts by not making an error in the game.
Academy scored twice in the first and wrapped up its scoring in the last of the fifth with two more. T.J. Pena and Josh Allen each drove in two for the Tigers. Pena doubled, and Allen had three singles.
Academy played at Kingman Wednesday. Results were not available by deadline. The Tigers next play at Wickenburg (2-2, 0-0) in section action at 3:45 p.m. Friday.
SOFTBALL: Mingus beats Kingman
Mingus (4-2 D-II) built up an 8-0 lead before Kingman could get on the board with three runs in the sixth, and the Marauders held off the Lady Bulldogs in non-section play Tuesday in Cottonwood, 8-3.
Shortstop Taylor Olivas went 3-for-3 for Kingman (1-4) with an RBI and run scored. Catcher Avery Lee knocked in two with a single.
Natalie Borgens went the distance for the Lady Bulldogs to take the loss. She gave up all eight runs on nine hits and a walk. Borgens struck out four.
Kingman next plays at Lake Havasu (2-3) at 4 p.m. Friday. It's a rematch of the championship game of the Coca-Cola Invitational won by Havasu (11-9) March 15 at Centennial Park.
More like this story