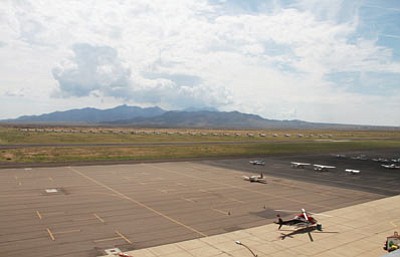 Originally Published: March 26, 2015 6 a.m.
KINGMAN - Dave French has been telling the flying public for some time that if they don't use passenger airline service at Kingman Airport, some day they're going to lose it.
That day is now very near.
The U.S. Department of Transportation is terminating the subsidized Essential Air Service program at Kingman Airport, allowing Great Lakes Airlines to suspend service of scheduled flights to Los Angeles and Denver as of April 30.
"This whole deal is between the airline and the Department of Transportation," said French, executive director of Kingman Airport Authority. "All we can say is we want service. Who wants to serve us? So far, it's been with a subsidy. Maybe in the future, they won't need a subsidy."
The department issued its order on March 13, noting that Kingman's EAS passenger subsidy levels exceeded the $1,000 cap. Kingman's subsidy in 2014 averaged $1,544 per passenger.
There are a number of statutory standards that communities must meet to be eligible for the federal subsidy. Kingman received a waiver from the 10-enplanement standard just a few months ago.
However, there is no statutory provision for a waiver from the $1,000 cap.
Great Lakes Airlines was selected by DOT in 2013 to provide Kingman with 12 weekly nonstop flights to Los Angeles or Phoenix for an annual subsidy of $1.64 million.
The airline, headquartered in Cheyenne, Wyo., serves 28 airports in nine states, with hubs in Los Angeles, Phoenix, Denver and Minneapolis, Minn.
Kingman residents commonly complained about high airfare. Flying Beechcraft 1900D 19-seat turbo prop planes, Great Lakes charges $392 to fly to Denver and $193 to fly to Los Angeles. Also, the airline doesn't fly to popular regional destinations such as Phoenix or Las Vegas.
Great Lakes did not return messages from the Daily Miner for comment.
"As far as pricing, you have to understand essential air service," French said. "It's not about getting there and getting off. It's about getting you there and you go somewhere else. Passengers to Los Angeles and Denver don't even count. That's not essential air service, so those are not subsidized passengers. You're subsidized to go on to New York or Guadalajara or wherever. You've got to extend.
"Sorry. I don't run the program."
Objection letters
The Department of Transportation received letters of objection to its decision from the airport director and Kingman Mayor Richard Anderson.
They pointed out that the FAA mandates copilots have at least 1,500 hours of holding an Air Transport Pilot certificate, and Great Lakes lost many copilots as a result.
They also stated "passenger confidence in local airline service will not be achieved when 25 percent of flights are canceled due to federal mandates."
Great Lakes had to remove 10 of the 19 seats in its aircraft to allow lower-time pilot crews to fly under the 10-seat rules. Kingman was left with fewer than four seats to fill, making it impossible to meet 10 enplanements, or passenger boardings, per day.
French said essential air service has not been reliable over the last five to six years.
Mesa Airlines, previously serving Kingman, went out of business and Great Lakes ended up taking over, but didn't have enough planes to serve all the communities.
"Then we got the planes and FAA mandated 1,500 hours for copilots," French said. "Since then, Delta, United, US Air all had the same problem (losing copilots). It was a knee-jerk ruling, in my opinion. That made it a pilot shortage, so it's not been reliable."
Mayor Anderson said local air service would become an increasing priority as Kingman grows its industrial and manufacturing base at the airport.
"This ever-growing cloud of uncertainty of the availability of air service adversely influences customer choices and participation," Anderson wrote in a Dec. 14 letter to the Department of Transportation.
He urged DOT Deputy Assistant Director Brandon Belford to reconsider any potential termination of service, and to help work through "conflicting and diametric policies" that seem to result in unintended consequences for struggling economies.
In addressing canceled flights, DOT examined data for scheduled and completed flights and found Great Lakes with a 74.2 percent completion factor.
The actual subsidy paid to Great Lakes for the 12-month period at issue was $1.31 million for 1,059 passengers, or $1,237 per passenger, still well above the cap.
In order to provide for an orderly shutdown, the Department of Transportation will authorize the subsidy through April 30, the end of Great Lakes' current contract.
Future service
French said passenger airline service from Kingman can be viable if it's done right.
Golden Pacific filled planes in the 1980s with morning flights to Phoenix and return flights in the early evening. Prior to that, Kingman was served by Bonanza Airlines, which later was acquired by TWA.
Kingman Airport Authority fought for essential air service because it's a community service, French said, and will continue efforts to attract a new passenger airline.
"That's the plan when the dust settles," he said. "We'll look for a carrier who wants to fly passengers to Phoenix. Maybe they want to extend, maybe not. Charter (service) is also a possibility.
"Getting back to essential air service, a lot of people have to go to Phoenix for the day and that's seven hours of driving there and back. It's a government center. People do business there. They're not going shopping at the mall," French added.
Great Lakes did not generate revenue for the airport, the director noted. It was more of an expense. The airport had to maintain a fire department and adhere to more stringent FAA requirements for airport certification, striping and signs.
The airport's largest customer is Kingman Airline Services, which pays a monthly fee to park and store some 225 airplanes at the airport.