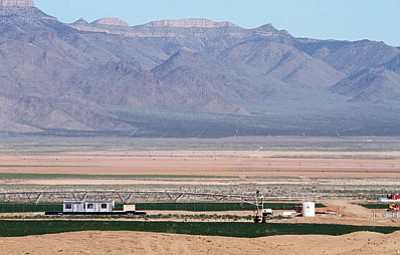 Originally Published: March 29, 2015 6 a.m.
KINGMAN - Gary Watson has been looking for a wedge to drive between Las Vegas developer Jim Rhodes and his proposed land exchange with the BLM of 21,000 acres in the Red Lake area, promising last year to do everything in his power to quash the deal.
The Mohave County supervisor whose district encompasses Red Lake north of Kingman may have found that wedge and is standing by with a 20-pound sledgehammer.
It was handed to him by a possible trespassing violation against Rhodes that's being investigated by the Bureau of Land Management, with assistance from the Mohave County Attorney's Office.
If it turns out that Rhodes and his Kingman Farms operation illegally graded roads on several miles of federal land, the hammer's coming down, Watson told the Daily Miner Thursday in a meeting with Supervisor Jean Bishop, County Administrator Mike Hendrix and Chief Deputy Attorney Jace Zack.
"I'm sure hoping that will be a significant decision-maker against the transfer," Watson said. "I can't even imagine the BLM considering an exchange with Rhodes at this point. If they even think about it, I'll be jumping up and down at the meeting in Phoenix."
Watson serves on the Resource Advisory Council that helps guide BLM decisions on public land management and resources.
He recently met with Roxie Trost, BLM's district manager from Lake Havasu City, and one of her investigators to show them maps where Rhodes had allegedly trespassed on BLM land in 27 instances totaling nine miles.
Three section markers were torn out of the ground, and that's a federal crime. The markers were put in place by the U.S. General Land Office in the early 1900s to mark off sections of public land.
Bishop is requesting that the County Attorney's Office investigate whether any markers have been moved or disturbed in Golden Valley, where Rhodes has recently stepped up farming activity.
BLM officials have confirmed the investigation, but declined to give details.
"I'm sure you understand it's a vast area up there and we're not on the scene for every square mile of BLM land every day," BLM spokesman Dennis Godfrey said. "We rely on reports and tips from people that see a potential problem."
MONUMENTAL MISTAKE
Jack Kesler, former Mohave County surveyor, said he was faced with a similar problem of monument destruction in the 1970s. Mohave Indians had farmers working along the Colorado River clearing land and farming, and they had "wantonly" destroyed miles of monuments, he said.
He reported it to the U.S. Attorney in Phoenix and within an hour, the FBI visited him and gathered facts and promptly shut down the farmers.
"Ultimately, the Mohave tribe had to pay BLM to replace the destroyed monuments. This should give Rhodes an ulcer," Kesler said.
County Administrator Hendrix said it costs about $50,000 to do the extensive research and documentation necessary to bring back each of the section corners. The markers must be re-established at their exact point prior to being bent or destroyed. An inch off makes a huge difference in cadastral surveying to establish property boundaries.
"They did a very good job in the old days of placing the markers," Hendrix noted.
The county sent a regulated land surveyor and maintenance supervisor to look at the damaged markers and take photographs, pinpoint latitude and longitude coordinates, and then compared it to Google maps that showed no activity in the area from 2013 to 2014.
It's evident that "someone" trespassed on the land, Hendrix said. Markers dated from 100 years ago were bent over and lying on top of the ground.
"We did not do extensive research on all the damage, just what we saw on a cursory basis and we didn't have access to all of the area," the county administrator said.
Watson said Mohave County is responsible for the "integrity" of those markers as set by federal statute.
"We're going to have to put those back and it's going to be costly," he said.
"We have a high level of confidence that trespassing occurred, so the damage and cost to the county to actually re-establish our responsibility in relation to the survey markers has to be investigated," Hendrix added.
STIRRING DUST
Rhodes doesn't need a permit to grade a service road on federal land because of certain exemptions for agricultural purposes, Hendrix said.
However, he would need environmental clearance from the BLM, as well as archaeological and cultural clearance. The BLM required extensive environmental clearance when Leonard Mardian was talking about exchanging land for a residential development in White Hills a few years ago, Hendrix related.
"We almost had action brought against the county because we disturbed an area four feet outside of a roadway," he added. "These people disturbed a significant amount of native ground. We saw nine miles."
While federal violations could throw a wrench in Rhodes' proposed land exchange, it won't stop him from drilling more wells and plowing land that's causing massive dust storms in Red Lake, Valle Vista and Golden Valley.
GOING GREEN
Linda Lara was driving toward her home in Valle Vista on a windy afternoon last week when she saw a heavy haze hanging over the land, obscuring her view of the distant mountains.
"I felt like we were driving into an Oklahoma Dust Bowl," Lara said. "Some people may see the natural land of Valle Vista as only the home of jackrabbits, snakes and tumbleweeds, but my one-eighth Indian heritage gives me an innate love for the wild Indian land.
"On the other hand, if Rhodes ever does anything out there besides plow up dust, it may be nice to see something green growing out there."
Supervisor Bishop said Mohave County lacks control over agriculture and farming. It's regulated by the state.
"The damage that's been done ... how do you repair that? It's such sensitive ground cover," she said.
Click for home delivery with comics, grocery deals, inserts, TV listings, coupons and more