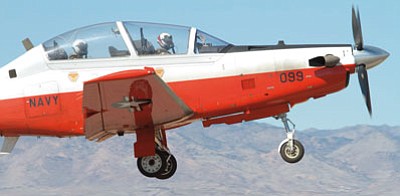 Originally Published: March 30, 2015 6:02 a.m.
KINGMAN - Logging more than 16,000 touch-and-go landings, U.S. Navy pilots are wrapping up training exercises that began in early January at Kingman Airport and will be leaving Thursday through Saturday for their home base in Corpus Christi, Texas.
That's good news for some residents who complained about pilots "dive-bombing" their neighborhoods and disturbing their peace and quiet with low-flying maneuvers in 1,200-horsepower, T-6B Texan II trainer aircraft.
The planes were flying at a minimum of 6,500 feet, typically from 12,000 to 18,000 feet above sea level, said Dave French, executive director of Kingman Airport Authority.
Most of the complaints he received were from people who lived 20 miles outside of town.
"It's not a headache. We just love to have the (air) traffic," French said. "That's what airports are for. This was a military base, built by the military, so it's doing what it's supposed to do."
Kingman Army Airfield was built during World War II as an aerial gunnery training base, and was released to Mohave County in 1948 for civilian use.
French said the airport received no money from the U.S. Navy to use the facility for training purposes. That's a tradeoff for the millions of dollars in federal funding the airport receives for major runway improvements.
"If you take federal money for the airport, you have to let them use it," French said. "They can't hog it up and use it excessively. I'd say they have the privilege to use it."
The Navy crew from Corpus Christi usually trains in Las Cruces, N.M., during the winter, but had to relocate to Kingman due to fueling issues, Lt. Commander David Flowers said. Key factors here include the mild weather and great facility.
Not everyone griped about the training activity.
"I hear the U.S. Navy planes and they are certainly not bothersome to me," Vickie Kress wrote in a January letter to the Daily Miner. "Our airport is a wonderful resource that is underutilized. Hopefully the Navy will be back year after year."
Click for home delivery with comics, grocery deals, inserts, TV listings, coupons and more