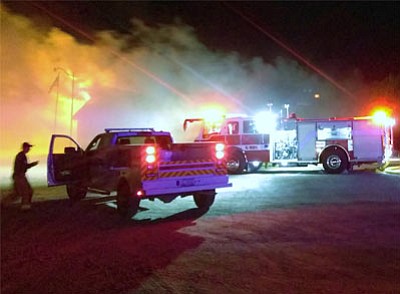 Originally Published: March 31, 2015 11:42 a.m.
KINGMAN - Fire - and the water used to fight it - caused extensive damage to the Kingman Moose Lodge Monday night, according to the Kingman Fire Department.
First-arriving crews found nothing obvious when they were dispatched to the lodge at 302 Monroe St. just before 10:10 p.m., said Battalion Chief Bill Johnston in an email.
Things changed dramatically as firefighters conducted an "investigative walk-around" and one of them spotted light smoke coming from the building's north side, said Johnston.
A small glow was observed when he looked through the window and more units were called.
Johnston said fire erupted through the roofline as firefighters entered through the front door. Johnston said the blaze gained intensity after it climbed a wall and followed a furnace vent pipe to the attic. From there it rapidly spread.
While the fire remains under investigation, Johnston said preliminary results indicate it started behind a bar counter near an electrical outlet.
The bulk of the fire was quickly knocked down, said Johnston, but crews remained on scene to keep watch and put out "hot spots."
The lodge was not occupied and no injuries were reported.
The fire was contained to the north side of the building, said Johnston, but the damage sustained was significant.
"The structure suffered from extensive fire and smoke damage," he said. No dollar estimate of the damage was available.
Attempts to contact lodge officials were unsuccessful.
More like this story