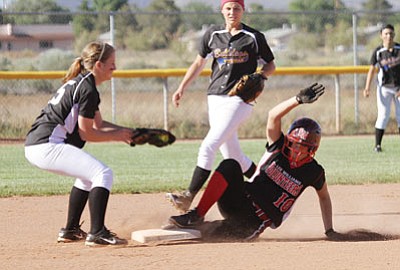 Originally Published: May 1, 2015 6:02 a.m.
KINGMAN - The Arizona Interscholastic Association announced its Division III final rankings for the baseball and softball state tournament brackets Thursday, and the only local players happy with the outcome are on the Lee Williams High softball team.
It's a rather remarkable achievement for the first-year varsity program. Lee Williams (11-6) has one junior, catcher Victoria Martin, five starting freshmen and three starting sophomores. And coach Mike Cummings is in his first season at the school.
The Lady Vols began believing about mid-March.
"It was at the end of the Kingman tournament and we saw were rated," Cummings said. "We played so well in the tournament beating Lake Havasu and we took third. It was then we began thinking we had a pretty good shot."
Cummings is quick to give his coaching staff a lot of the credit for what has transpired this season for the Lady Vols, and the work ethic from his players does not go unnoticed by the coach.
"These girls have worked hard, and proud is not a strong enough word," the coach said. "Since the first day of practice they have soaked up what they've been taught like sponges."
No. 20 Lee Williams faces No. 13 Sahuarita (14-4) in the first round of the single elimination state tournament at 11:30 a.m. Saturday at the Rose Mofford Complex in Phoenix. A win moves the Lady Vols into the second round against No. 4 Tanque Verde (17-1) on Wednesday.
"We're happy to be in," Cummings said. "I'm a strong believer that getting there is the first step, and winning that first game is the next step."
BASEBALL: Disappointment
Kingman Academy and Lee Williams were both squeezed out of the D-III playoffs when the brackets were released. The Academy (13-6) finished No. 25 and Lee Williams (12-3) ended 26th. Only the top 24 gain entry into the tournament.
"I don't necessarily agree with it. I know we played some tough teams," said KAHS baseball coach Bill McCord. "We're the only 13-win team not to make it. That's frustrating."
McCord has the same concerns about who got in, as does Lee Williams baseball coach James Mayfield.
"There's a lot of disappointment in the room right now," said Mayfield, immediately following Thursday's announcement. "We're looking at Page, Chinle and Tuba City. They're all from a section that is weak and three of them made it."
Like the softball team, Mayfield's baseball team does not have a senior on it. That's got him, the coaching staff and players already looking forward to next year.
"It is what it is, but next year will be a different story," Mayfield said. "We had an awesome year. A few of our opposing coaches told us that they don't want to see us next year."