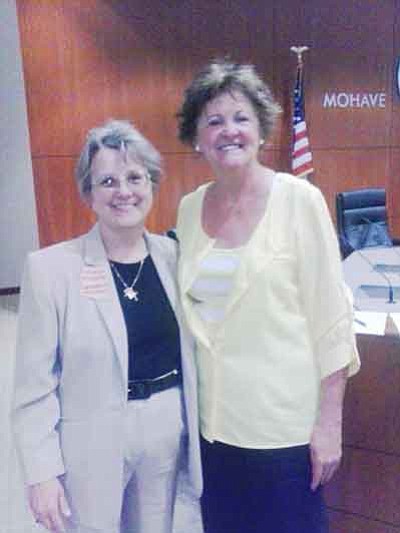 Originally Published: May 4, 2015 5:25 p.m.
On April 23, Sen. Kelli Ward and State Supt. of Instruction Diane Douglas hosted a town meeting about the state of education in Arizona. Knowing it would be crowded, I arrived early to get a good seat. It was disappointing, however not surprising to see a crowd of no more than 60 to 70 people.
Educators, school administrators, ordinary citizens, and a few parents spoke of their concerns about the Arizona educational system. All speakers made some good points, with Common Core standards and school funding being at the forefront.
Common Core standards take simple concepts and teach them by abstract methodologies that turn them into complicated, tedious processes and verbiage. Memorization of math facts and algorithms are de-emphasized.
If the overcomplicated wording and abstract circular thinking are removed, we end up with very similar standards from previous years. These are not rigorous enough for the top 10-20 percent of students.
How do we devise one assessment tool for all types of learners? The answer is, it is impossible. The parents of top students understandably want high college prep standards. But for various reasons a college degree is unrealistic for many students.
Do students need a college degree to be successful in life? I do not think so. A vocational, technical, trade career can be very rewarding and lucrative. Since we will need machinists, carpenters, mechanics, electricians, chefs, plumbers and nursing assistants in the future, why not allow students a head start towards that vocation?
We could offer two tracks for parents and students to choose from, as is done in many other countries. These two tracks can start as early as middle school and have different assessments attached to them.
If Common Core is revised, it can be used for the vocational track if it includes real life applications such as financial literacy. There already is a test for the college track; it is called the ACT (A National College Admissions Test).
Well qualified, expert teachers can make this a reality, but not without higher wages. Until Arizona voters value our children and schools, I suggest all Arizona teachers start a "go fund me" page to offset classroom expenditures.
School ratings need to be more diversified, with less emphasis on scores and more on learning environment, teacher retention and learning opportunities.
Finally, when it comes to state mandates, less is more.
More like this story