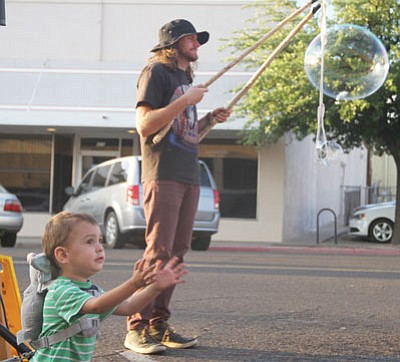 Originally Published: May 5, 2015 6:02 a.m.
KINGMAN - The 28th Annual Fun Run had a decent turnout this year, even with slightly less-than-expected participation in terms of cars and people.
"We had 740 cars register this weekend," sad Carl Kinsey from the Historic Route 66 Association of Arizona, slightly fewer than the 800 cars they saw last year.
Kinsey also stated that all the hotels in town were sold out, and that an estimated 5,000 people attended the event.
The largest car club to attend was the Obsessive Camaro Disorder, with 22 cars. The largest out-of-country car in attendance was the Australian Car Club, with 22 members present.
Around 1,100 people attended this year's KABAM! (Kingman Area Books are Magic) festival at Metcalfe Park on Saturday. Five feature authors were in attendance, as well as a variety of other authors and vendors.
"It was about the same as last year, almost neck and neck," said Trish Cobb, KABAM's steering committee secretary. "We would have liked to have more, but there were so many events in town."
Cobb said that more students were served this year than in previous festivals. Six hundred students at Kingman High School listened to Alexandra Livingston and Stephanie Cress, two of the featured authors at KABAM.
Conrad Storad, a children's book author, spoke to around 1,000 kids at Desert Willow, Mt. Tipton, Hualapai, and Manzanita Elementary schools.
A spoken word poet, Bernard Schober, spoke to students at Lee Williams High School as well.