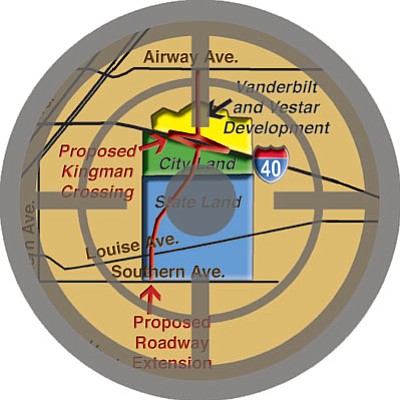 Originally Published: May 5, 2015 6 a.m.
KINGMAN - The future of Kingman Crossing is on the line today when the City Council holds a public hearing on whether to make a major amendment to the General Plan voters approved last November.
Five of the seven Council members - a supermajority - will have to vote yes on the amendment, which would designate more than 150 acres of city-owned land currently listed as open space and parks to regional commercial. The land is located south of Interstate 40, north of undeveloped Airfield Avenue, and between undeveloped Sage and Cherokee streets. About 17 additional acres will remain open space and parks.
The plan is to find a developer willing to pay north of $20 million to build a fourth interchange at the location and then develop the land for retail and restaurant outlets.
The land on the north side of the interstate is already zoned regional commercial, but it can't be developed without a traffic interchange.
If the Council approves the amendment, it will not change the zoning. That must be done at a later date. Voters will have the final say because state law requires any sale of public property valued at more than $500,000 to be decided in an election.
Last week, the Planning and Zoning Commission deadlocked 3-3 with one abstention after members held a second public hearing.
Members of the public have been evenly divided over the issue, and the City Council has also been at odds regarding Kingman Crossing.
But that's not all you get.
In a second important item on today's agenda, the Council could adopt the tentative budget for fiscal year 2015-2016 beginning July 1.
While a majority of Council members have unofficially green-lighted giving employees a 3 percent across-the-board pay raise with another 3 percent dedicated to certain employees affected by compression, Councilwoman Jen Miles has said she wants the Council to limit raises to 2.5 percent for hourly employees only until a workforce analysis could be completed.
The final budget, which sets a ceiling on what the City Council can spend next year, will likely be formally adopted at the May 19 meeting.
And in yet another key issue, the Council will discuss funding a Fourth of July celebration that would take the place of the annual fireworks show, which won't be held this year because the Mohave County Fairgrounds opted out of hosting the event and a suitable venue could not be found in time to bid out the show.