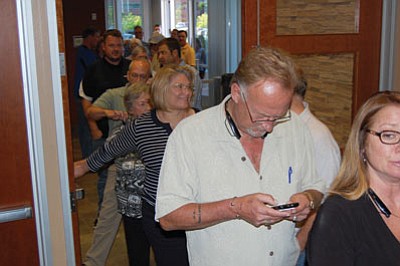 Originally Published: May 6, 2015 11:33 a.m.
KINGMAN - The City Council on Tuesday on a 5-2 vote approved a major amendment to General Plan 2030, one that is considered the first of many steps on the road to building Kingman Crossing.
Nearly 50 people spoke during a three-hour, standing-room-only public hearing at the 300-seat Mohave County Board of Supervisors auditorium. Unlike all previous meetings and public hearings regarding the amendment in which public sentiment was divided fairly evenly, supporters of Kingman Crossing heavily outweighed opponents at Tuesday's pivotal public hearing.
In essence, the amendment - if voters agree - will allow the city to sell about 151 of 168 acres of publicly owned land, which is located south of Interstate 40 and north of undeveloped Airfield Avenue, and between undeveloped Sage and Cherokee streets.
The end game is to sell the land to a major developer who would agree to pay multiple millions of dollars to construct Kingman's fourth interstate traffic interchange and develop retail outlets and restaurants.
Voters will be asked to approve the land sale in the November 2016 election.
The resolution to amend the general plan calls for the land use, currently designated as open space and parks, to be changed to regional commercial, which would match the other side of the interstate. Still to be done is a zoning change, which must go through the public hearing process. On the other side of the freeway is about 148 acres of privately owned land that is already zoned for regional commercial, a type of zoning that can be tailored to restrict certain businesses from operating, such as truck stops, RV parks, BMX tracks, and others.
For more on this story, see Thursday's edition of the Kingman Daily Miner.