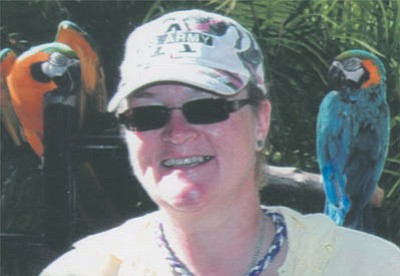 Originally Published: May 7, 2015 11:39 a.m.
KINGMAN - The suspected remains of a Yucca woman who had been missing since Oct. 3 were recovered in Yuma County Tuesday afternoon after the suspect in her killing reportedly confessed to the crime.
Mohave County Sheriff's detectives began investigating 54-year-old Cynthia Marie Horn's disappearance eight months ago in Yucca, where she was last seen.
On Tuesday, James David Collins, 50, was arrested at his mother's home in Yuma with the assistance of the U.S. Marshals Office, which acted on a felony warrant for Collins' arrest issued by Lake Havasu City Justice Court on a charge of failure to comply with sex offender registration requirements, according to Mohave County Sheriff's spokeswoman Trish Carter.
Family and friends of Horn suspected Collins was involved in the woman's disappearance, but he was in a Mexican jail after he was arrested for possessing a firearm.
Collins was driving Horn's 1994 Jeep Wrangler when he crossed the border. Collins remained incarcerated in Mexico for several months.
After the warrant arrest, investigators reportedly obtained Collins' murder confession. He allegedly told them he killed Horn in Yucca and then drove her body to family trust land in Yuma County, said Carter. The Yuma County Sheriff's Office obtained a search warrant and recovered human remains believed to be Horn's.
"This is surreal," said Natalie Horn, the victim's niece, "As much as we hoped she would be alive, we had a realistic outlook that this was a possibility. But now we find everything has been turned on its head and is being exposed. This is more that we could have hoped for, in a sense."
The case remains under investigation and an autopsy will be conducted to determine Horn's cause of death. Charges pending against Collins include second-degree murder, abandonment of a dead body and theft of means of transportation.
According to court records, Collins served a year in an Arizona prison in the mid-1980s on what was then a DWI conviction and just under two years from 2007 to 2009 following another DUI conviction and failure to register as a sex offender.