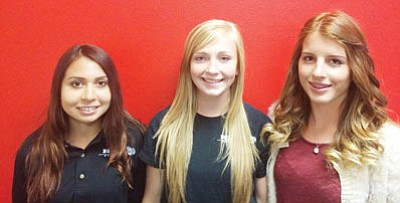 Originally Published: May 8, 2015 6 a.m.
KINGMAN - As Lee Williams High School continues to grow - next year will be the school's first with seniors - so does its participation in the Arizona Interscholastic Association Division III State Track and Field Championship meet. Fourteen Volunteers are set to compete today and Saturday at Mesa Community College for state titles, including Giancarlo Narvarte, who is defending his high jump championship.
"I am extremely happy with the number of athletes we are taking to state," said LWHS track coach Joan Abraham.
The LWHS boys team has Narvarte, Brendon Allred in the 1,600 and 3,200 meters, Shannon Townes in the high jump, and Kensington Penny in the shot put.
Narvrarte won last year's championship at 6 feet, 6 inches, and comes into this year's meet ranked No. 1 at 6-10. Shadow Ridge's Michael Williams has also cleared 6-10, and he's done it twice.
"This year is completely different because we both have jumped 6-10," Narvarte said. "That's a big height, and it's not easy to get. The dream is seven feet, but I think if I can get 6-10 it would be enough."
The girls team includes the 4x800 relay team (Megan Barnes, Alondra Correa, Melisa Davis, Angelica Herrera and Jackie Millim), and Davis is also competing in the 300 hurdles. Trysta Rucker and Madi Arave are both in the long jump, and Marli Lauck is in the triple jump.
"I think it is pretty awesome that I have so many freshmen going to state," Abraham said. "Melisa, Alondra, Trysta and Madi all have bright futures, as they still have three more years to improve."
The Lady Vols 4x800 team was the last relay squad to make it in to the meet, and the wait was grueling.
"It was nerve wracking," Millim said. "I was scared we wouldn't get in and was antsy about it. We're excited to be the first relay team from Lee to make it to state."
In a race that covers 3,200 meters, there is more to it than just each individual running as fast they can.
"There has to be lots of encouragement," Correa said. "We need to encourage each other on every lap. That helps us a lot as a team to get our best time."
More like this story