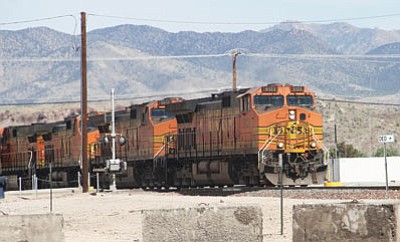 Originally Published: May 8, 2015 6 a.m.
KINGMAN - From her home off Route 66, Lois Roupp hears 80 to 100 trains a day rumbling through town, their lonesome whistles blowing from a distance and the rhythmic clackety-clack of steel tracks sounding from powerful locomotives.
She doesn't mind it at all.
"We hear train whistles at regular intervals in the morning. I love the sound," Roupp said during a visit to the Kingman Railroad Museum. "I think they're fun. They're fascinating. We found a spot at the airport to watch trains go by and get the engineers to blow their whistles."
This is a town built by the railroad and named after Lewis Kingman, the surveyor sent here in 1880 by Atlantic & Pacific Railroad to lay out the best route for the line.
The first train pulled into Kingman on March 28,1883. The town started as a small railroad camp and rapidly grew into a major shipping and trade center for silver, gold and cattle. The discovery of Gold Road, a rich gold strike in the Black Mountains, helped to make Kingman a center for mining activities in Mohave County.
In recognition of Kingman's railroad heritage, the Kingman Railroad Museum, inside the restored Santa Fe depot at 402 E. Andy Devine Ave., is offering free admission Saturday in conjunction with National Train Day.
The museum displays a variety of railroad memorabilia and artifacts such as a switch stand, lanterns, locks and keys, conductor hats, telegraph machines, old train schedules and a 1943 railway employees' time-log book.
The main attraction is an intricate layout of N-gauge, O-gauge and HO-gauge model trains winding their way past landscaped homes, stores, schools and churches.
"I had model trains myself and I have a display at home. It just kind of grew from that," said Bob Cook, a 13-year Kingman resident serving his second year as president of the Whistle Stop Railroad Club, which operates the museum. "We built these models two years ago. We talked the city into letting us in here."
The city of Kingman has the master lease on the historic train depot, which also serves as a boarding station for Amtrak's Southwest Chief. Amtrak's service runs from Los Angeles to Chicago, with stops in Kingman at 11:46 p.m. going to Los Angeles, and 1:33 a.m. going to Chicago.
The Southwest Chief follows a route older than the railroad itself. It twists and turns through passes discovered by the earliest Indians, Spanish conquistadors and fur trappers.
The railroad museum can't compete with Route 66 for popularity among tourists, drawing perhaps 20 visitors on a busy day, Cook said. However, he's seen people from Europe, South America and Africa sign the museum's visitor log.
A short walk from Kingman Railroad Museum is Locomotive Park, home of AT&SF steam engine No. 3759, listed on the National Register of Historic Places.
Built in 1928 by Baldwin Locomotive Works, the locomotive served passengers from Los Angeles to Kansas City with a water stop in Kingman. It was retired in 1953, having traveled nearly 2.6 million miles.
Locomotive Park is popular for taking photographs and climbing aboard the engine.
Railroad buffs can find several excellent vantage points for viewing and photographing trains in Kingman and Kingman Canyon. Also, one of the old water tanks near the depot used to fill the tenders of steam engines features a train mural.
Economic relevance
The railroad isn't as crucial to Kingman's existence as it was in the 1800s, but it still has relevance, said Dave French, executive director of Kingman Airport and Industrial Park.
"Absolutely. It's very important out here, that's for sure," he said.
BNSF's main line interfaces with Kingman Terminal Railroad to deliver raw materials and products to a number of businesses at the airport, French said.
Trains bring plastic pellets to JM Eagle for manufacturing of PVC pipe, diesel fuel to Musket Corp. for distribution to Flying J and Love truck stops, and glass for Potters Industries to produce engineered glass materials. Cantex Inc. and Telling Industries also use the airport's rail spurs.
Rick Chambers, who worked 33 years in the railroad industry, said the railroad is still very important for Kingman.
"I expect that to become more of an issue later on. I expect more business at the airport," Chambers said.
BNSF's McConnico siding, outside of town, is used to bring in steel for Nucor Steel to melt down into rebar and other steel products, he noted.
The home terminal for BNSF's operations is in Needles, Calif., but a lot of employees live in Kingman and make the 60-mile commute, he said. Chambers started as a brakeman for Santa Fe Railroad, then became a conductor for BNSF and finished his career as a regulatory official with the Federal Railroad Administration.
"It provides a lot of jobs to the local economy," said Merv Freedom, founding member of the railroad club. "A lot of freight is brought to the airport by train. Also, you've got jobs for rail crews that work on the track and I understand the Amtrak crew changes out here in Kingman."