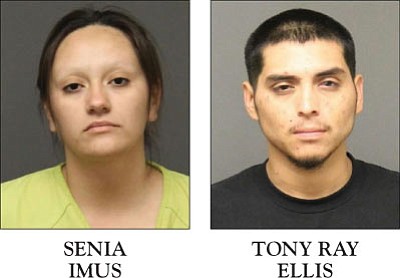 Originally Published: May 10, 2015 6 a.m.
KINGMAN - Police stopped a vehicle for speeding in a residential area and discovered the vehicle had been reported stolen out of California.
Mohave County Sheriff's Office deputies arrested Tony Ray Ellis, 24, and Senia B P Imus, 34, both of Kingman, Thursday morning during a traffic stop at Jagerson Avenue and Van Nuys Road. Police allegedly clocked their vehicle going 38 miles per hour in a posted 25 miles per hour zone.
Ellis was arrested for possession of narcotic drugs and possession of drug paraphernalia, both felonies. He also was arrested for driving with a suspended license and a contempt of court warrant issued by Kingman Justice Court, both misdemeanors.
Imus was arrested for theft of means of transportation, possession of dangerous drugs for sale, possession of dangerous drugs, possession of prescription only drugs, possession of narcotic drugs, possession of drug paraphernalia, and taking the identity of another, all felonies.
She also had two misdemeanor warrants for failure to pay fines issued by Bullhead City Justice Court and Kingman Justice Court. Both Ellis and Imus were transported and booked into the Mohave County Jail. The vehicle was towed from the scene.
Deputies said that during the traffic stop, a computer check showed the vehicle was stolen in California. A search of a purse inside the vehicle allegedly revealed an identification for Senia Imus, who then revealed she had given police her sister's name when they were stopped.
The purse also contained drugs and drug paraphernalia, according to police, so an inventory search of the vehicle was conducted. Deputies allegedly located a scale, glass pipe, a white crystal substance weighing about 1.9 grams, plastic bags containing a white residue, pills and a plastic bag containing a brown tar substance.