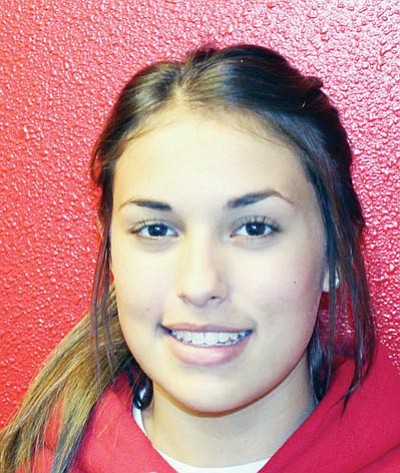 Originally Published: May 10, 2015 6 a.m.
KINGMAN - Though Lee Williams didn't register any team points on the first day of the Arizona Interscholastic Association Division III State Track and Field Championship Meet Friday at Mesa Community College, the Vols were given a glimpse of what the future could bring in the girls long jump competition.
Freshmen Madi Arave and Trysta Rucker placed 11th and 13th, respectively. Arave missed scoring team points by three places and five inches with her leap of 15 feet, 7 inches. Rucker's final mark was two inches behind Arave at 15-05. Monument Valley's Kaitlyn Wayne (18-06.25) won the event.
The girls 4x800 meter relay team entered state as the 18th seed and was the final invitee to the meet.
The Lady Vols (Alondra Correa, Megan Barnes, Jackie Millim and Angelica Herrera) moved up to 16th with a run of 11 minutes, 00.95 seconds. Ganado (9:52.96) took the title.
In the boys events Friday, Kensington Penny finished 24th in the shot put. He heaved 38-09.5, which was won by Show Low's Jaisen Brown (50-04.25).
Brendon Allred came in 25th for Lee Williams in the 1,600. He ran it in 5:11.27, and Rio Rico's Carlos Villarreal won the state championship in 4:03.97.
Lee Williams had four events and five competitors remaining Saturday.
Melisa Davis was scheduled for the girls 300 hurdles, and Marli Lauck had the triple jump.
For the boys, Allred raced in the 3,200, and Giancarlo Narvarte and Shannon Townes competed in the high jump. Narvarte entered the event as the defending state champion.
Kingman High was scheduled for three events Saturday in the D-II state meet.
In girls, Megan Gaul was in the high jump and Desirae Gonzalez had the discus.
In boys, Abraham Ruelas competed in the shot put.
Results were not available by deadline.