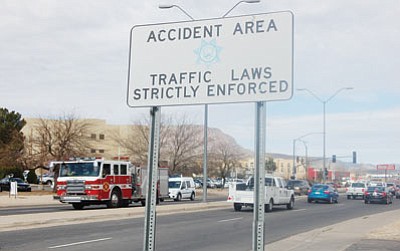 Originally Published: May 11, 2015 1:43 p.m.
KINGMAN - Fatal accident reconstruction investigators with the Arizona Department of Public Safety determined that Kingman Fire Department Battalion Chief Bill Johnston failed to yield to a pedestrian he hit as the woman crossed Stockton Hill Road last July.
Emily Jeanne MacDonald, 75, succumbed to head injuries in a Las Vegas hospital on July 9, two days after the accident, which occurred at about 9:25 a.m. on a Monday morning.
According to reports at the time, Johnston was driving a KFD pickup and had a green light when he turned left onto Stockton Hill Road from Kingman Regional Medical Center and struck MacDonald as she walked in the crosswalk. MacDonald's head struck the pavement and Johnston immediately rendered help.
The Kingman Police Department in August asked DPS review its investigation and conduct its own inquiry into the fatality.
The DPS investigation took about 10 months to complete and Johnston was issued a citation on Friday alleging he failed to yield to a pedestrian in the crosswalk.
In February the Miner reported attorneys with the Goldberg & Osborne law firm, which has a satellite office in Kingman, were representing MacDonald's daughter, Heather MacDonald, in a potential lawsuit against the city and Johnston.
The attorneys in their notice to litigate MacDonald's death expressed frustration with the fact no report was available, which made it difficult to comply with Arizona laws regarding the notice of claim. Such notices are precursors to a formal lawsuit. In this case, attorneys seek $1.5 million on behalf of MacDonald.
The outcome of the DPS report could bolster the lawsuit since it alleges Johnston "acted negligently" when he struck MacDonald.
While Johnston is a public employee and that is enough for the city to be named as a defendant, MacDonald's attorneys argue local government was also negligent because it has a duty to maintain roadways.
They note there is signage near the intersection that warns motorists the area is a high accident area. They erroneously said the sign is only posted in the northbound lane (in front of the Taco Bell restaurant by Beverly Avenue), but not the southbound lane. The southbound sign, however, is posted at Airway Avenue and Stockton Hill Road.
Whether there is one sign or two, the attorneys intend to argue the signage "fails to adequately warn motorists and pedestrians approaching the dangerous intersection."
And while DPS has deemed Johnston was allegedly negligent for failing to yield to MacDonald, the attorneys in their notice of claim accuse the city of negligence in how Stockton Hill Road was designed, constructed, and maintained and that the city failed to correct the "known deficiencies" of the road.
City Attorney Carl Cooper could not comment on the matter due to pending litigation.