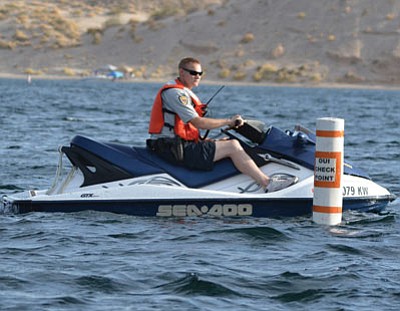 Originally Published: May 13, 2015 6:02 a.m.
KINGMAN - Warmer weather means more people are on the water - and more law enforcement officers are with them, looking for impaired operators.
Officers with the Arizona Game and Fish Department will join the Nevada Department of Wildlife and National Park Service this weekend in a multi-agency, multi-jurisdiction effort to enforce the legal limit for alcohol consumption - as well as people under the influence of illicit substances - while operating watercraft.
The limit on the water is the same for motorists on the road - 0.08 percent. Boaters and other watercraft operators will have to pass through a checkpoint - the location is a secret - where officers will check for impairment of any kind and also conduct a systematic safety inspection.
They'll look to ensure a sufficient number of proper lifejackets are on board, along with a fire extinguisher and a number of other required items.
"The responsibility for boating safety among watercraft users is critically important," said Velma Holt-Buhr, the west sector supervisor for the Game and Fish Region 3 office in Kingman. "The area is growing quickly and we share these waterways with California and Nevada. It's becoming very congested, which lends itself to more potential hazards."
Here's what watercraft operators want to have onboard if they want to avoid four of the most common infractions:
• A U.S. Coast Guard-approved lifejacket for every person on board.
• A working fire extinguisher.
• A Type IV throwable flotation device.
• Anyone 12 years old or younger must wear a lifejacket at all times.
This weekend's operation is the first of many that will take place over the next few months.
For more information on watercraft regulations, or on how to take a boating education class, visit the Game and Fish website at www.azgfd.gov.
More like this story