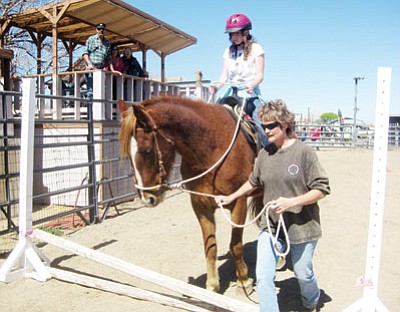 Originally Published: May 14, 2015 6 a.m.
KINGMAN - When the eight riders on the Kingman's Healing Hooves Equestrian Team climb into their saddles this weekend, they'll be making history in Mohave County.
The riders, who range in age from 15 to 40 years old, will be competing in the county's first Special Olympics horse show. The group, mostly beginning riders from Kingman, has been practicing on Saturdays since Feb. 2 and will be ready to show off what the members learned at the show, which takes place at Kingman's Healing Hooves.
"We need something like this here," said Kassie Schuerr, founder of the nonprofit organization. "I have found that we have limited special needs services and programs in our community and county for therapy. Through our therapeutic riding program, we are able to bridge the gap in services for our clients who are seeking different results.
"We also wanted to have the opportunity to involve the Special Olympics organization so our riders can compete with their peers and learn horsemanship."
Arizona's Special Olympics has chosen to sponsor an equestrian team in Phoenix for a year, said Schuerr, but there's nothing for riders in Mohave County. Other Special Olympics sports charge for their activities and Schuerr wants to share her facility and horses without charging the families of local Special Olympics athletes.
Kingman's Healing Hooves offers equine therapy, which has become a recognized method of treating many mental, physical and psychological issues in children and adults. It uses interaction with horses, including grooming and riding, to treat these conditions without the patients feeling like they are in therapy.
Participants have a wide range of disabilities and challenges, from cognitive impairments such as Down Syndrome or Autism Spectrum Disorder, and physical disabilities such as Cerebral Palsy and spinal cord injuries, to mental health issues and sensory impairments. They learn riding skills while improving their balance, strengthening their muscles, working on their educational goals and advancing their communication skills.
Sasha Martin, 40, will be riding Rain, a 6-year-old mare Martin has been practicing with for several months. Martin had not been around horses until December, when she began riding Dreamer, a 7-year-old gelding who is very gentle. Martin, who had been restricted to a wheelchair, has built up enough strength to walk alongside Rain.
"I was kind of afraid of the horses at first, but not anymore," said Martin. "I'm just going to be nervous because of Rain. I don't know how she does in these kinds of things. But I think it's going to be a great deal of fun, and I can't wait to wash her the day before the show. All the horses have to be clean."
During the horse show, the riders will compete in three classes.
The first is showmanship, where riders will lead their equines into the arena and through a pattern. The second class is walking and trotting, where seated riders will guide their horses in both activities. The third class is trail, which consists of seated riders leading their horses around and over obstacles.
Alice Conaway, 35, will be riding Elvis in the horse show. Conaway said she and Elvis, a 5-year-old, big Tennessee Walker gelding, make a good team because Elvis is well-behaved and listens to her. Conaway has been riding a little more than a year and is more familiar with horses.
"The horse show sounds fun," said Conaway. "I like the idea of showing people what we do with the horses. But it does take a lot of hard work, and people don't see that. You have to practice and practice. I think we'll do pretty good at the show because we've been practicing together so much."
Schuerr said that because most of the riders are beginners, they've spent a lot of time just learning to steer their horses and getting comfortable with being in a saddle and off the ground, which can be intimidating. Schuerr said that's the goal of the therapeutic riding program and the Special Olympics horse show.
"Being on this equestrian team gives the riders self-esteem," said Schuerr, noting some want to participate in horse shows at the Mohave County Fair and in neighboring states. "A lot of them get picked on because of their disabilities, and they know they can come out here and love on the horses and feel good about themselves again because of what they accomplish in the arena."