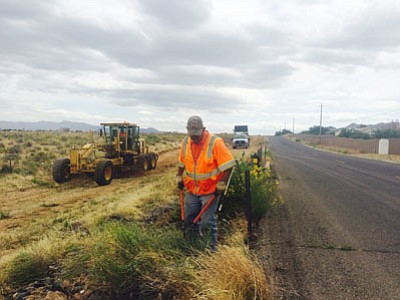 Originally Published: May 15, 2015 3:18 p.m.
KINGMAN - Arizona's infrastructure report card shows that the state has a lot of room for improvement, a group of civil engineers said Wednesday.
Arizona received an overall grade of "C" from the state chapter of American Society of Civil Engineers. The state's road system is crumbling and will require at least $24 billion to maintain over the next 25 years, the report noted.
A team of professional engineers from across the state assessed nine categories and found significant challenges ahead to support a growing economy.
They issued the following grades: aviation (B-); bridges (B); dams (C-); drinking water (C-); levees (C-); rail (C+); roads (D+); transit (C+); and wastewater (C).
ASCE gave the nation a "D" grade for infrastructure.
Steve Latoski, director of Mohave County Public Works, said he applauds ASCE for bringing attention to state and national infrastructure conditions through its macro-level review and presentation in a report card-style format.
"It is intended to be indicative of infrastructure across the country and Mohave County shares with other agencies and jurisdictions that infrastructure age drives condition grading in various areas of consideration," Latoski said.
County Public Works completed the modern Beaver Dam Bridge on County Route 91 in the Beaver Dam and Littlefield area in 2010, which shows how some areas of the county are better than others, he said.
The infrastructure report card highlights several challenges facing transportation:
• By 2030, it is estimated that 58 percent of commercial service airports will not have sufficient operating capacity to meet their needs.
• Roughly 50 percent of Arizona's bridge inventory is more than 40 years old and about 75 percent is more than 20 years old.
• Less than 50 percent of Arizona's roadway needs can be addressed with expected funding.
Water and the environment:
• Arizona has 258 dams, 139 of which are designated high-hazard.
• Seventy percent of the state's water usage goes to agriculture.
• More than 2,600 miles of drinking water transmission and distribution mains are currently in need of rehabilitation or repair.
Mohave County remains dedicated to preserving and maintaining nearly 2,100 miles of county roads, including more than 800 miles of paved roads, Latoski said.
In 2013, the county initiated rehabilitation work under the Capital Pavement Preservation Program, which identifies and prioritizes projects across 313 miles of paved regional highways and arterials in the county.
Currently, 43 percent of those roads have exceeded their structural service life, Latoski noted. The county has spent about $500,000 a year since 2013 to repair existing paved roads.
As far as bridges and drainage, Mohave County maintains 43 structures under National Bridge Inspections Standards. The Arizona Department of Transportation performs regular inspections at no cost to the county.
The county has been proactive in responding to recommendations from state inspections, Latoski said. The Board of Supervisors in February approved a $285,600 contract for preventive maintenance on the historic Sand Hollow Bridge on County Road 1 between Scenic and Littlefield in the Arizona Strip.
"Such attention to preventive maintenance work on this 1930 bridge on the National Register of Historic Bridges underscores the purpose by which ASCE undertakes the report card exercise," Latoski said.
Mike Worlton, chairman of the Arizona Report Card Committee, said the state has to make wise investments now in roads, water distribution systems and other infrastructure to sustain economic growth. Infrastructure plays a pivotal role in daily life, and it's important for leaders to make decisions that prioritize infrastructure, he said.
"One of the big things is communities and the state need to make sure they're planning for the future," Worlton told the Daily Miner. "It's like financial planning for retirement. If you don't plan for the future, there may come a time when you have a big bill to pay and no funding to do so."
To help raise the grades, the report card recommends:
• Reduce user fee diversions for transportation. More than $800 million annually in motor vehicle taxes and user fees go toward non-transportation uses.
• Develop Emergency Action Plans for all high-hazard dams by 2018. Currently, 90 percent have EAPs, which is significantly above the national average of 66 percent.
• Improve passenger rail in dense urban corridors as an alternative to air and car travel.
• Increase opportunities for public-private partnerships to obtain funding for appropriate wastewater projects.
• Continue to focus on conserving Arizona's water resources to help ensure future needs can be met.
The Arizona Report Card was created to inform citizens and politicians of infrastructure needs in their community.
To view the full report, go to www.infrastructurereportcard.org/arizona.