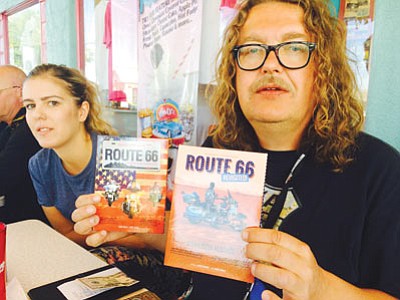 Originally Published: May 15, 2015 6 a.m.
KINGMAN - Mr. D'z Diner turned into a European convention of Harley-Davidson riders taking the trip along Route 66 on Wednesday.
Twenty-two riders from the Czech Route 66 Association crossed paths with about 25 military veterans from England in the diner's parking lot.
No blows were exchanged - just stories about their rides across America, what they've seen and done, and how their bikes are performing.
Zdenek Jurasek, president of the Czech Route 66 Association, is making his 21st trip on Route 66, this time with his 24-year-old daughter.
"It's even better than I thought," Adela Jurasek said during breakfast at Mr. D'z. "I try to explain to my friends what my dad does. After this trip, I know better."
Her father has produced two 90-minute documentary films on Route 66, including "Route 66 Revisited," which was released in October and has been shown at more than 50 theaters in the Czech Republic.
Czech Route 66 Association has about 125 members and more than 2,300 friends on Facebook (www.home66.eu).
The famous American highway has grabbed the fascination of people in many European countries, including Belgium, Germany and The Netherlands, Zdenek Jurasek said.
Germany is holding the first European Route 66 Festival next year. Czechoslovakia has staged its own festival since 2008.
The Czech riders started their Route 66 journey on April 28, arriving in Chicago and renting their motorcycles. After spending Tuesday night in Kingman, they traveled to Las Vegas. Some of them planned to visit Death Valley, and then it's on to Los Angeles and up the California coast to San Francisco.
A smaller group of about 10 Czechs will meet up in San Francisco and take Lincoln Highway back to New York.
"It is a life dream for these people to go on Route 66 because many years ago we were a communist country and many people dreamed of Route 66 because Route 66 is well-known," Jurasek said.
"People know John Steinbeck and 'Grapes of Wrath' or they watch films. Everyone knows 'Rainman' and they have scenes of Route 66."
Jim Hinckley, author of more than a dozen books on Route 66, is meeting up with the German Route 66 Association when it stops in Kingman in a few weeks.
He's also accepted a position on the Route 66 economic development committee that's part of an initiative by the National Park Service and World Monuments Fund.
He hopes to attend a conference in Edwardsville, Ill., in October.
Other Route 66-related opportunities to promote Kingman include the Great Race that's coming on June 26, and a 47-day Route 66 tour by Adventure Caravans in September and October.