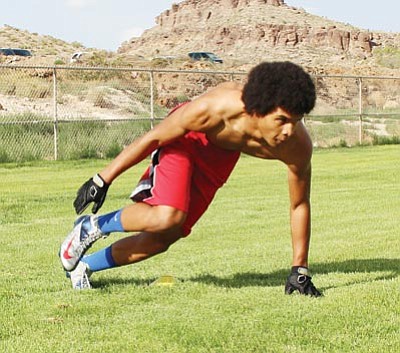 Originally Published: May 17, 2015 6 a.m.
KINGMAN - Three weeks of spring football came to a close for Kingman Academy High Thursday, and the Tigers put themselves in a favorable position for the summer football program.
"We're way ahead of where we were last year at the same point," said second-year KAHS football coach Dan Stroup. "We saw that our younger kids from last year have really improved. We know what the kids are capable of, which is easier than last year because I hadn't seen them."
Stroup ended spring football very impressed with tight end Andrew Quick, who starts his junior year in August. Quick didn't miss a day over the three weeks, which showed Stroup he's maturing off the field as well.
"Andrew had a tremendous spring," the coach said. "He's very athletic and is going to be more of an elusive tight end. He's slick, smooth and runs precise routes. It you throw to his back shoulder, he'll adjust. He's one of the best I've coached in 29 years who can get to a ball thrown in his area code."
Quick's enthusiasm for spring football was about getting the best out of himself.
"It definitely showed me what I need to work on," Quick said. "It showed us all what we can expect the season to be like. It showed us who is who."
The junior likes that the Tigers are going to more agile and quicker when the season rolls around. The vibe the team is giving off shows they're becoming a band of brothers.
"The team bonded and grew together," Quick said. "Spring football showed us who is committed and who wants to be out here with us."
Spring football leads to the summer football program and the area the Tigers will have to hit hard if they're going to make the Division IV playoffs after reaching the D-V state playoffs last year.
"I am concerned about the physicality of game after game coming from D-V to D-IV," Stroup said. "We didn't have many injuries last year, and hopefully the second year of having a lifting program will prevent them this year. Anybody you play in D-IV is going to be physical. Our section this year is a step up for us."