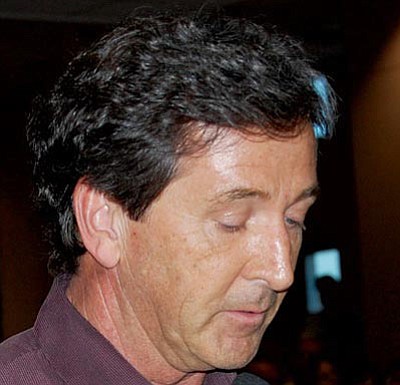 Originally Published: May 18, 2015 6 a.m.
KINGMAN - Mayor Richard Anderson and City Manager John Dougherty have made no secret of the fact they fully endorse plans to develop Kingman Crossing with hopes of bringing desperately needed sales tax revenue into city coffers.
The men said last week they have no intention of resting in the wake of a 5-2 vote taken May 5 that served as the first step in what is undoubtedly one of the more ambitious plans in the city's history.
And while the reaction has been a mixture of strong support and fierce opposition, residents unhappy with the vote to approve a major amendment to General Plan 2030 have until June 5 to file paperwork seeking a voter referendum that, if voters agree, could veto the Council's decision.
The amendment essentially changed the land use designation of about 151 of 168 acres of city-owned land from open space and parks to regional commercial. The roughly 17 acres remaining will remain open space and parks.
The land designation does not change the zoning. That will occur later if it is ultimately approved through the public hearing process. And while opponents contended the Council overruled voters who approved the general plan last November, Anderson and Dougherty have said voters will still have the final say since they will have to approve the city selling the land in the 2016 elections.
The endgame is to eventually auction off the acreage to a developer, who would play an instrumental role in the construction of a fourth Interstate 40 traffic interchange and develop the land for retail and restaurants.
The land is south of the interstate, north of undeveloped Airfield Avenue and between undeveloped Sage and Cherokee Streets. About 148 acres of privately owned land is north of the interstate and is already zoned regional commercial.
Anderson said he has heard of no plans that a referendum would be sought, but he acknowledged if enough signatures were gathered to get it on the ballot, "things could be delayed."
Such a delay could be problematic, said Dougherty.
The word is out
"I've already had a few developers call and say the heard about the Council meeting," he said. "Interest has begun."
The city, however, isn't going to wait for the phone to ring. Dougherty noted he and Anderson would be among a contingent from Kingman to attend this week's International Council of Shopping Centers convention in Las Vegas.
"We intend to draw up interest in Kingman Crossing," said Anderson. "Some of the players from the last go-around [in 2007] are still interested."
Anderson also noted longtime Kingman developer Bill Nugent, who is one of the property owners on the other side of the freeway, might be interested in participating in the development of the interchange.
"We want to know if he will participate," said Anderson. "Kingman Regional Medical Center has always maintained it would pay its share."
KRMC's Hualapai Campus is located in the area, but a lack of development and the fact the facility is virtually landlocked make it very difficult to function as a full-service hospital. KRMC CEO Brian Turney at the May 5 public meeting reiterated the hospital strongly supports the project.
Dougherty said the city would not sell the land as much as put it on the auction block. He cautioned, however, that right now voters must approve the sale of any city asset valued at more than $500,000. The Legislature, he said, has been flirting with the idea of bumping that number up by $1 million.
The land has not been appraised, but conventional wisdom suggests 151 acres of prime real estate would exceed the $500,000 mark, but it might not reach the $1.5 million threshold.
Who will pay?
Anderson still hopes developers will step in and fund the interchange - at an estimated cost in excess of $20 million - and get reimbursed on the back end by contractors and the businesses for whom they build.
But even if a developer does fund construction of the interchange, the city cannot avoid paying for expanding Airway Avenue and other roads in the area, bringing in water and sewer, and other on- and off-site improvements.
"The city's got to fund this," he said of the projects, not all that are directly linked to Kingman Crossing. The Airway project, for instance, would create a third railroad underpass for motorists to use at Andy Devine Avenue at an estimated cost of $10 million. The project is included in the city's five-year capital improvements plan that is set to be discussed and possibly approved when the Council next meets Tuesday.
Not rushing
"We're taking our time to plan the process," said Anderson. Just don't expect to hear who might be interested in getting involved anytime soon.
"At the relevant time and the legal time we'll get that information out," said Anderson. Developers, he said, insist any discussions about their plans remain confidential since disclosing them could give other developers an unfair advantage.
"They don't want their competitors to know what they are doing until (public) land is sold, and nine times out of 10 they want to be the one who makes an announcement."
Both Dougherty and Anderson said "several groups" are looking at Kingman Crossing.
Long-term benefits
Those groups have varied interests, said the men, from taking advantage of Kingman's status as a key transportation hub in the western United States to improving emergency response access to eastern Kingman.
For example, about 1,400 of an available 2,000 empty acres at the Kingman Airport and Industrial Park currently managed by the Federal Aviation Administration could be released to attract more manufacturers.
The construction of Kingman Crossing would ultimately provide a second route to the airport that would result in decreased truck traffic on Andy Devine Avenue.
And while attracting manufacturing is the primary goal, Dougherty and Anderson believe, as do others, that Kingman is an ideal location for an inland port. Currently, they said, the Port of Los Angeles is a staggering six months behind in unloading merchant ships due in large part to a lack of space.
"We're less than a day away," said Anderson, noting the city offers Interstate 40, U.S. 93, the potential for the future Interstate 11, railways and an airport.
Other key benefits, said the men, is that traffic on heavily traveled Eastern Avenue would lessen, emergency responders and law enforcement would have easier, timesaving access to eastern Kingman and additional fire stations and a police substation could be built that would help mortgage holders with insurance costs.
"We're definitely on the cusp of really exploding," said Dougherty. "My idea is, we want growth, not overgrowth, and Kingman Crossing will light the spark ... there's definitely going to be a ripple effect."
"We know steps have to be taken," said Anderson. "Mr. Dougherty knows the process and we have a professional city staff who will do it right, but we will take our time."
Click for home delivery with comics, grocery deals, inserts, TV listings, coupons and more