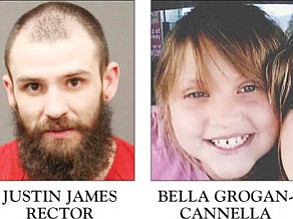 Originally Published: May 19, 2015 6:02 a.m.
KINGMAN - Defense attorneys for Justin James Rector, a Bullhead City man who could face the death penalty if convicted in the murder of an 8-year-old girl Sept. 2, filed court papers last week that seek to keep the child's survivors from telling the jury how the death has affected them.
Such comments are always delivered post-conviction at the defendant's sentencing hearing. Known as a victim impact statement, the court in most cases allows the victims of crime or their survivors, in the event of a homicide, to explain their loss to jurors. Statements are allowed only after a person is convicted and Rector's trial likely won't begin until the fall of 2016. Generally, this would be an issue that would be decided much closer to trial.
Defense attorneys Gerald Gavin and Ron Gilleo, however, have filed a plethora of court documents since taking over the case against Rector in March. Rector stands accused of strangling to death Bella Grogan-Cannella and burying her body in a wash about a mile from her home.
Judge Lee Jantzen has denied six of about 20 requests defense attorneys have made and at a recent hearing said he would rule on the others in due time.
While the matter might not be ripe for discussion, the question of whether the jury should hear statements from victims raises an interesting question. While juries in all trials, criminal and civil, are the finders of facts, judges decide what the punishment will be for those convicted in a criminal proceeding - except in death penalty cases, when jurors decide the verdict and the punishment.
Defense attorneys argue the impact of the girl's death on victims is irrelevant, and that Arizona law does not directly give Rector's attorneys the right to cross-examine those victims when they address the jury.
Normally, such statements are delivered from the gallery, often from handwritten notes. They can even be submitted in a letter that only the judge would read.
Another court document defense attorneys filed is perhaps more interesting due to its timeliness and the fact it addressed Rector's mental health.
Specifically, prosecutor Greg McPhillips wants Rector to be evaluated by a specialist who would try to determine whether he was sane at the time of Grogan-Cannella's death.
According to reports, Rector has a methamphetamine addiction and had been awake for several days prior to the incident. He allegedly drank a few beers and consumed cough syrup in an effort to "come down" on the day the girl went missing sometime after midnight.
Her parents and other adults in the home went to the local Walmart and left the girl in Rector's care.
Gavin and Gilleo, however, raised a "strident" objection to Jantzen ordering any type of mental health examination or IQ testing, at least at this time.
They did so, they said, because they need time to collect all of Rector's mental health records, health records and substance abuse treatment records beforehand so doctors have as much of his history as possible.
While defense attorneys claim there is "no overriding" legal or medical reason to order testing at this time, McPhillips in a prior hearing said he is specifically interested in the examination that could determine Rector's sanity at the time he allegedly killed Grogan-Cannella.
Waiting, he argued, could make that determination more difficult to make.
In a third filing, defense attorneys requested Jantzen keep prosecutors from making statements that serve only to "inflame a jury."