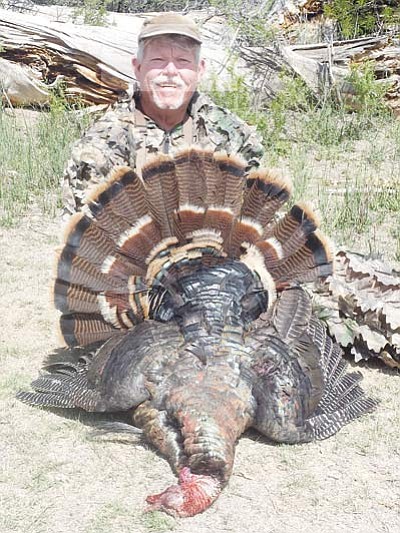 Originally Published: May 19, 2015 6 a.m.
This year I had some incredibly good fortune when I ended up with THREE great spring turkey tags and started on what I called the quest for a turkey Triple Crown. The quest would require that I hunt in Nevada and Arizona.
Here is how it started. Lady Luck smiled on me when I drew the only non-resident turkey tag for a unit near Moapa, Nev., northeast of Las Vegas.
I had applied for the tag for about five years on the advice of my friend Kensen Lee, who lives in Las Vegas. Kensen knows this unit like the back of his hand and is friends with a family who own a lot of prime turkey habitat in the hunt area. Kensen is able to get a friend or two on the property if they draw a tag. The property is the home of a lot of Rio Grande turkeys.
The second tag I drew was very, very special. For about 11 years (and with 13 bonus points) I had applied exclusively for a unit in southern Arizona that is the home to a flourishing population of Gould's turkeys. Arizona is the only state that has a huntable population of these turkeys, thanks to the efforts of the National Wild Turkey Federation and the Arizona Game and Fish Department.
The last tag I had was for a Merriam's gobbler for the second season on the San Carlos Apache Reservation.
I actually applied for this tag in 2014. Turkey tags are hard to get in Nevada and for the Gould's hunt, and with my proven ability NOT to draw turkey tags, I try and pick up a San Carlos tag every year.
San Carlos is my favorite place to hunt Merriam's turkeys in Arizona.
I started my quest for the turkey Triple Crown in Nevada in early April.
The season opened on May 4, the same day I had a Supplemental Hunter Education class scheduled in Kingman. I wouldn't make it for the opener.
I arrived late in the afternoon on day two of the hunt, but hunting closes for turkeys at 4 p.m., so all I could do was scout.
But what I saw while with Kensen told me I needed to be very selective in filling my tag. I set my sights on taking an old gobbler with a beard that was 10 inches or longer.
That evening, we watched a flock of 40 birds that had 10-inch long beards!
I watched Monday morning as 34 birds landed in an agriculture field. Fully half of them were longbeards!
I called in three of those gobblers to within 26 yards, but passed on them even though two were mature birds. One had an 8-inch beard, one had a 9-inch beard, and one was a young jake.
That day was filled with several encounters with gobblers that were aggressive, but who were younger and had small beards. Remembering Kensen's advice on holding out for an older bird, that's exactly what I did.
The next day would be much of the same. I watched and even videotaped as gobbler after gobbler flew out of a roost and started chasing hens. I knew that I could take a gobbler just about any time I wanted, but when you're being selective, you have got to take your time.
My friend Jay Chan said that if I wasn't done by Tuesday night he would drive up and be with me for the hunt on Wednesday. I told him I'd wait for him.
Well before daylight Wednesday, we were in a makeshift blind overlooking a field where the day before I watched a group of big gobblers strut and chase hens. Of course, the gobblers flew off in a different direction than what I thought they would.
But we were on turkeys all morning. I could have taken a number of gobblers that came by or into the call.
But I had my sights on a group of five gobblers that I called the "Five Amigos." One of them had a long beard that was kind of tri-pod shaped. He was the one I wanted.
Later in the morning, Jay and I watched the Five Amigos go into some mesquite brush for their morning siesta.
I was able to slip down through the brush. When the big guy got up, I dropped him at 30 yards.
His beard was 10½ inches long and he weighed almost 20 pounds. He was a fine, mature Rio Grande gobbler.
I was going to be using some new 12-gauge, 3½-inch shotgun shells that are being sold by Spectra Shot. The shells are called White Lightning, and carry a 2¼-ounce payload of nickel-plated No.-5 lead shot. These shells are new on the market and I was actually the first hunter in Nevada to use them on a hunt.
As I would find out, these shells perform as advertised.
With the Rio Grande gobbler in the bag, it was time to head south for the second leg of Triple Crown quest.
... To be continued.