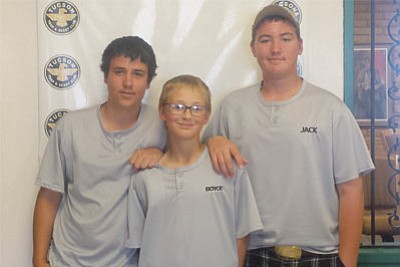 Originally Published: May 19, 2015 6:02 a.m.
KINGMAN - The Kingman area currently has two scholastic clay target programs and teams of young athletes, both male and female, who participate in organized trap and skeet shooting.
One group is known as the Mohave Top Guns and the other is the Desert Bighorns.
Both groups sent shooters to the recent Commissioner's Cup event in Tucson.
On the first day of the event it was skeet shooting, and the weather was perfect for this fast-paced shotgun sport.
The Desert Bighorns had one entry into the Rookie Division (girls). Kimber Privetts shot a 38 X 100 and took third place.
In the Intermediate Entry (girls), Nasya Longmire shot a 38 x 100 and finished in first place.
In the Intermediate Entry (boys), 34 were entered. Boyce Privetts shot an 85 x 100 and took 4th place. Matthew Delk shot 57 x 100 and took 18th, while Bryant White shot a 49 x 100 and placed 23rd.
Two local shooters were in the Intermediate Advanced (boys) division that had 28 entries.
Jack Cavender took 8th place with a 91 x 100, while Wyatt Magers shot a 79 x 100 and placed 14th.
In the Open Team division, Cavender, Magers and Privetts put together a combined score of 255 x 300 and placed second.
The Mohave Top Guns had a three-marksmen team in the Open Team Division, and their team consisted of Brandon Matschke, Daniel Robinson and first-time skeet competitor Levin Franklin. The team finished in 13th place out of 20 teams.
Individually, Matschke shot an 81 x 100, while Robinson posted a 60 x 100 and Franklin with a 25 X 100.
The final day was the trap portion. The weather had turned cold and it was very windy.
The Mohave Top Guns had a five-person squad in the Open team division and placed second with a combined score of 834 x 1000.
Matschke shot a 165 x 200, Robinson posted a 136 X 200, and Matthew Brown shot 189 x 200, while Alex Schneider broke 172 x 200 targets. Levi Franklin shot a 172 x 200.
In the Junior Varsity (Boys) division, Levin Franklin came in 17th place out of 66 shooters.
In the Individual Varsity (boys) division, Matschke came in 46th place, Robinson placed 82nd, Schneider finished 31st, while Matt Brown came in second.
In the Collegiate (Boys) division, Joshua Schanaman posted a score of 182 x 200 and placed eighth, while Ross Totten shot 174 x 200 and placed 13th.
The Desert Bighorns had one young lady shooter in the Rookie Girls trap event. They only shot 100 targets.
Kimber Privetts scored 53 x 100 and placed third.
In the Intermediate Entry (girls), there were five entries and they shot at 200 targets. Nasya Longmire broke 115 X 200 to take first place.
There were 46 boys in the Intermediate Entry (boys) division and Matthew Delk scored 160 x 200 to take fifth place. Bryant White broke 153 x 200 targets and placed ninth, while Boyce Privetts took second place with a 164 x 200.
Ryan Borden, shooting in his first state competition at the Junior Varsity level, shot 163 x 200 to take 30th place out of 66 entries.
In the Intermediate Advanced (boys) division, there were 39 entries.
Jack Cavender took first place with 191 x 200, while Wyatt Magers scored 173 x 200 to take sixth place.
Dawn Cavender said that there were 335 kids who attended the two-day shoot, and that SCTP Coaches Steve and Linda Bell, along with Kirsten Privetts, were there to help out the Kingman squads. Cavender noted that the shooting ran all day, starting at 8 a.m. each day and lasting until 7 p.m.
The top shooter in the Kingman squads was Jack Cavender, who placed third out of the 335 competitors. Cavender, who competed in the Intermediate Advanced division, was the only non-varsity or collegiate shooter in the top 39 at the event.