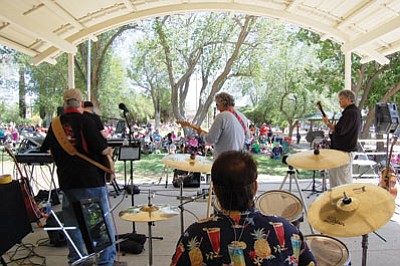 Originally Published: May 20, 2015 6:02 a.m.
KINGMAN - Members of the West Coast Travelers had plenty of room to set up under the newly rebuilt and covered bandstand at Metcalfe Park.
The popular band, which covers many of rock 'n roll's classic hits, drew a large crowd to Metcalfe Park on Sunday for the second installment of this year's Sounds of Kingman concert series, according to Robin Gordon.
• The Rivals will appear at the next free concert from 5 p.m. to 7 p.m. June 14.
• North Country Music will play from 5-7 p.m. July 19.
• Blue Country Band is from 5-7 p.m. Aug. 16.
• The Kingman Concert Band will perform 2-3 p.m. Sept. 27.
• The 2015 season concludes with Polka Katzen from 2-4 p.m. Oct. 18.