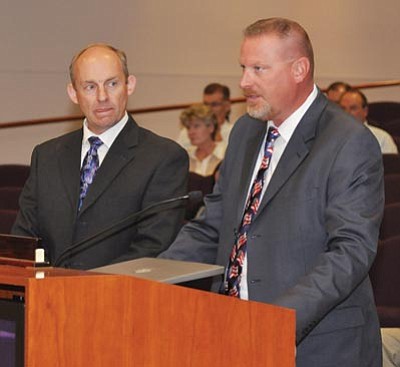 Originally Published: May 22, 2015 6 a.m.
KINGMAN - Three local attorneys have been selected as finalists to succeed longtime Mohave County Family Court Judge Julie Roth when she retires in July - and the public is encouraged to make written public comments on the candidates before a selection is made.
The Mohave County Committee on Special Judicial Officer Appointments selected these finalists:
• Mohave County Deputy Attorney Doug Camacho
• Private attorney and part-time commissioner Ken Gregory
• Private attorney Michele Holden.
Interviews were held May 15 and Presiding Judge Charles Gurtler will make the appointment.
Kip Anderson, the court administrator, said while Roth currently sits on the bench in Kingman, her replacement will officially be based in Lake Havasu City, but will spend a couple of days a week in Kingman handling the child support calendar.
In Lake Havasu City, the judge will handle family and civil matters, along with juvenile cases.
Meanwhile, Judge Rick Lambert will relocate from Lake Havasu City to Kingman.
The Mohave County Board of Supervisors appointed Roth a commissioner and judge pro tem in 1998. She has sat exclusively on the family court bench.
Here's a look at the candidates according to brief bios the Miner requested:
Doug Camacho
Camacho is a veteran prosecutor who has worked in Mohave County for a number of years.
He was a cum laude graduate from Brigham Young University in 1997 and the Loyola University Chicago School of Law in 2001, the year he was first licensed to practice law.
That first year, Camacho practiced in three separate legal arenas - family, civil and criminal defense - while living in Bullhead City. He joined the Mohave County Attorney's Office in 2002 and worked there for 15 months before he opened a private practice in Branson, Mo., where he practiced family, juvenile and civil law.
Eighteen months later, Camacho returned to the Mohave County Attorney's Office, where he has remained since December 2005.
As a prosecutor, Camacho has focused on crimes against children.
As part of that focus, he said he has participated in the Lake Havasu City Multidisciplinary Team, which advocates for children.
Camacho is secretary of the Mohave County Bar Association and is active in Scouting as an assistant Scoutmaster, merit badge counselor and committee chairman.
Ken Gregory
Gregory is a Bullhead City attorney whom the supervisors appointed as a part-time commissioner court judge in November 2013. He handles in-custody arraignments, hears family matters and took over the adult drug court program in Kingman.
The remainder of his work week takes place in Bullhead City as a private attorney and partner in the Gregory & Elias PLC law firm. The firm litigates a wide variety of civil and transactional cases throughout the state.
Gregory is a veteran attorney who has appeared as counsel in more than 100 lawsuits as well as criminal and administrative matters.
Gregory lives with his wife in Bullhead City. He's active in the Rotary Club and sits on the Mohave County Bar Association board.
While most of his work has taken place in Mohave County, Gregory has appeared in federal court, including district, bankruptcy, Department of the Interior - Bureau of Land Management, the Arizona Court of Appeals and several other courts and entities in which an attorney's expertise is required.
Michele Holden
Holden practices in a number of civil law arenas with an office in downtown Kingman.
She is a U.S. Air Force veteran who served from 1986-1992 and reached the rank of captain. She graduated from Washington State University in 1985, where she obtained a bachelor of science in mathematics. She earned her master of science in mechanical engineering from Boston University's Overseas Program in Heidelberg, Germany, in 1992, and her law degree from Georgetown University Law Center in Washington, D.C., where she wrote for that school's law review.
Holden has practiced law in Mohave County since 2005 after working as an assistant attorney general in Arizona for a year. Holden began practicing law in 1998.
She is a trial attorney who primarily practices domestic relations and juvenile dependence law.
She is also a hearing officer and mediator with the Wyoming Department of Education regarding disputes involving the Disabilities Education Act. She is also a pro tem justice of the peace and associate magistrate in Bullhead City.