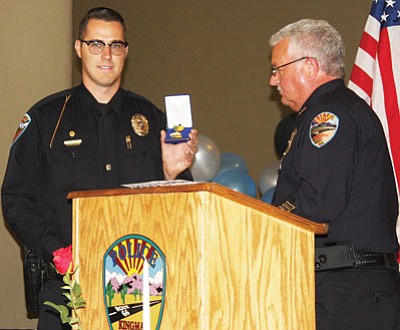 Originally Published: May 24, 2015 6:01 a.m.
KINGMAN - Kingman Police Officer Chaz Truver on Thursday was awarded the Distinguished Service Award for actions taken during a deadly domestic call March 11 when a man armed with a BB gun replicated to look like a Colt Defender semiautomatic pistol aimed the weapon at his partner.
Truver, a first-year officer who was in field training, shot and killed Ryan Dean Burgess, 31.
Burgess' mother called police after her son reportedly became violent and punched holes in the walls of her home. When Truver and officer Wayne Hollan, Truver's field training officer, arrived at the home on Lucille Avenue, Burgess reportedly walked outside and aimed the weapon at Hollan.
Truver was one of several officers and volunteers recognized at the department's annual awards ceremony held each year during National Police Week, according to KPD spokeswoman Jennifer Sochocki.
Nominations are made by peers and are reviewed by a committee. Joining Truver were:
• David Snelling, Explorer of the Year
• CJ Reeff, Volunteer of the Year
• Tiffiny Reed, Civilian of the Year
• Gabriel Brown, Officer of the Year.
Other awardees include officer Eddie Espinoza, who was recognized for saving the life of a man in need of CPR.
Espinoza was the first responder on scene and his swift actions earned him the department's lifesaver award, said Sochocki.
Volunteer David Morrison received special recognition from Gov. Doug Ducey for his service to Kingman and Arizona.
Others received awards or commendations for honorable or meritorious service, said Sochocki.