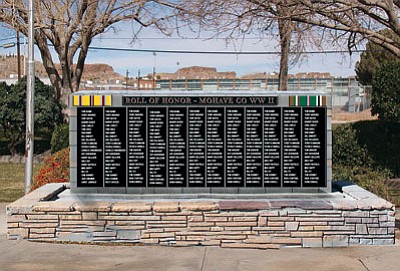 Originally Published: May 26, 2015 6 a.m.
KINGMAN - Local fraternal military organizations have embarked upon an aggressive fundraising effort to expand the Veterans Memorial Park located on the west end of Locomotive Park in downtown Kingman.
The Kingman Marine Corps League Detachment 887 and the Jerry Ambrose Veterans Council of Mohave County have partnered with the city to expand the memorial park and seek about $20,000 in donations.
The City Council, on the recommendation of Parks Director Mike Meersman, unanimously agreed to set aside space at Locomotive Park - where a veterans' memorial already honoring veterans of the Vietnam and Korean wars exists - for expansion in April of 2014.
According to Marine Corps League and veterans council leaders, once the project is completed it will include three additional walls. The first will be for World War II. More than 1,000 men from Mohave County served in the Second World War. A plaque that for some reason is virtually hidden from the public in the Mohave County Superior Courthouse lists the names of 1,105 WWII veterans, but someone had removed four of those names. The list will be copied onto a plaque for placement at the memorial.
The Iraq and Afghanistan walls will list the names of Mohave County residents who served - and some who made the ultimate sacrifice - during those wars.
"We have solicited several local businesses and craftsmen to construct the new additions to Veterans Memorial Park and all have agreed to help construct the new walls," said Marine Corps League Commandant Terry Flanagan. "Some have volunteered to donate their time and others have offered to donate some materials, but we still need funding for the things that are not donated.
"Our goal is to raise $22,000 for the construction of the new walls," he said. "Hopefully there will be enough caring people and businesses in Kingman and the surrounding area that would like to support this most worthy undertaking."
The Jerry Ambrose Veterans Council, led by President Pat Farrell, is a registered nonprofit, so all donations are tax-deductible. Checks can be made out to Jerry Ambrose Veterans Council of Mohave County. Write "memorial fund" on the memo line of the check. Checks can be mailed to MCL Detachment 887, P.O. Box 6921, Kingman, 86402 or JAVC, P.O. BOX 4463, Kingman, 86402.
Individuals can also donate to the project through PayPal and by credit card. Interested donors can visit www.javc.org and follow the instructions contained on the "donations" tab.
If someone is aware of a current or former county resident who served during WWII who is not listed on the website's "memorial" tab, or if there is a misspelling, please provide the information to Flanagan via email at commandant@MCL887.org. Write "memorial wall" in the subject line.
Anyone wanting more information about the project, to donate materials, to donate financially or to be involved in either of the organizations can contact Flanagan at commandant@MCL887.org, or call him at (928) 279-5807. Farrell can be contacted on the veterans council website or at (928) 753-5239.
Click for home delivery with comics, grocery deals, inserts, TV listings, coupons and more