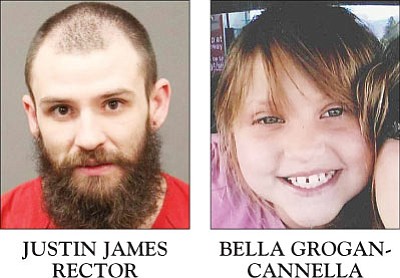 Originally Published: May 27, 2015 6 a.m.
KINGMAN - The sparring match between attorneys representing a man who could face the death penalty and the prosecutors who seek the ultimate punishment continues as both sides have filed a flurry of court documents.
More than 70 documents, rulings and orders have been filed since Justin James Rector, 27, was indicted on a charge of first-degree murder, abandonment of a body and other crimes following his arrest in September.
Rector is accused of killing Bella Grogan-Cannella, 8, and burying her body in a shallow grave in a wash about a mile from her Bullhead City home on Sept. 2.
Mohave County Public Defender Harry Moore was initially assigned the case, but withdrew in March when his office discovered a conflict of interest since it had previously represented people who will likely be called to testify at Rector's trial.
Mesa attorney Gerald Gavin and Mohave County Legal Defender Ron Gilleo were appointed to represent Rector shortly after Moore withdrew from the case.
More than 55 of the documents have been filed since Gavin and Gilleo took over. Here's a look at the most recent filings.
Mental health, IQ testing
One of the more hot-button issues in the case regards Rector's state of mind at the time of the killing.
Specifically, prosecutor Greg McPhillips wants doctors to examine Rector to determine if he was sane the night the girl died.
Death penalty law in Arizona requires IQ testing, testing to determine a defendant's competency to stand trial and his sanity at the time of the crime, but only if the defendant does not object to the testing.
Gavin has said in open court that he likely will seek the testing once he has possession of Rector's mental health history. McPhillips has argued the longer such testing is delayed, the more difficult it will be for doctors to make a finding. While that remains a concern, McPhillips did not object to the attorneys' request to wait.
Victim impact statements
Gavin and Gilleo asked Judge Lee Jantzen not to allow Rector's alleged victims to speak of how Grogan-Cannella's death has affected them - if Rector is convicted and the jury begins the penalty phase of his trial.
Defense attorneys argue such statements don't have a role in court proceedings and preclude them from questioning victims on Rector's behalf.
McPhillips argued such statements are not only allowed, but victims have a right to make them. McPhillips said there are limitations - a victim cannot recommend a sentence, for example. He asked Jantzen to deny the request.
Inflaming the jury
Gavin and Gilleo in a previous filing requested Jantzen prohibit prosecutors from making "improper prosecutorial arguments that unduly inflame a jury."
McPhillips in his reply again asked the judge to deny the request, saying it was premature - Rector's trial has been set for October 2016 - as it moves past the trial and into the penalty phase.
McPhillips said the county attorney's office would present the facts and law relevant to the case, "and will adhere to all ethical responsibilities."
Appearance matters
Gavin previously asked Jantzen to preclude law enforcement officers from wearing uniforms or displaying weapons during Rector's trial.
McPhillips said the request was "silly" in open court earlier this month, a comment that earned him a mild admonishment from Jantzen.
Gavin references the comment in court papers. He said rather than being silly, the need to "do this once, correctly, is not silly and is in all parties' interest."
Gain said allowing armed officers to appear in front of jurors could lead them to presume the man is not innocent, but guilty.
"Just like jail garb, it cloaks the defendant in a presumption of guilt," he wrote.
Gavin warned if Jantzen does allow uniformed and armed people to appear in court, "it will happen over his ongoing and strident objections to any such procedure."
Rector's next court appearance is scheduled for July 15.