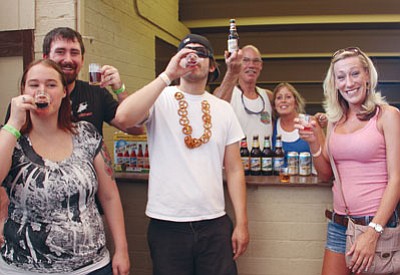 Originally Published: May 29, 2015 6 a.m.
KINGMAN - Beer aficionados: Put on your drinking caps. The Mohave County Fairgrounds will host its Third Annual Beerfest from 4-8 p.m. Saturday.
More than 60 beers will be available, with brews coming from micro and nano breweries such as Black Bridge Brewery, North Coast Brewing and Grand Canyon Brewing Company. Romer Beverage and Canyon Distributing will also be bringing a variety of beers.
Last year the fairgrounds had just under 400 people attend. This year they anticipate larger crowds.
Admission is $30 at the gate, which includes a beer glass and 15 tickets (one ticket = one 5 oz. pour). Extra tickets are three for $5. Advance passes are available through Friday evening at Black Bridge Brewery, House of Hops, the fairgrounds office and Cerbat Lanes for $25.
Food will be available, and there will be designated driver tickets available for $10, which includes unlimited soda and water. Kingman Cab can provide rides home.
Earlier in the day, the fairgrounds will also host a cornhole tournament from 7 a.m.-3 p.m. to benefit the Western Arizona Humane Society. Names will be pulled at 7 a.m., with the tournament starting at 8 a.m. Entries are $25 per person, with $20 from each ticket going to the humane society and $5 going to the winner's pot. Both events are for ages 21 and over.