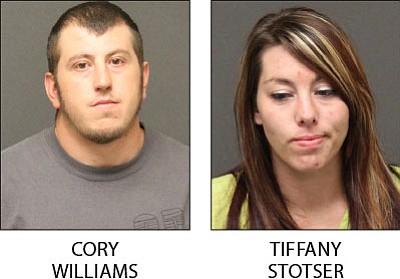 Originally Published: November 5, 2015 6 a.m.
KINGMAN - The Clark County Coroner's report on a 3-year-old boy who died in August provided more detail about the boy's death, and those details differed in one instance from a report provided to the Kingman Police Department by doctors at Kingman Regional Medical Center.
Cory Williams and Tiffany Stotser, both of Kingman, were arrested last week in connection with the boy's death.
Williams, who was dating Stotser at the time, was taking care of the boy on Aug. 6 when the boy suffered blunt force injuries to the head.
The boy was airlifted to Las Vegas and died two days later as a result of his injuries. Stotser, the boy's mother, was not with her son at the time of the accident.
Both Stotser and Williams are facing felony child abuse charges, and Williams is facing an additional manslaughter charge. Stotser was released on bail the next day, while Williams remains at the Mohave County jail.
A report provided to the Miner from the Kingman Police Department said the three-year-old boy died due to "multiple skull fractures resulting from blunt force head trauma while in the care of Williams."
The coroner's report filed by Clark County states that the boy sustained blunt force injuries, but only a single occipital skull fracture as part of those injuries. Part of what the pathologist is calling blunt force injuries include multiple scalp contusions and brain hemorrhaging.
The report states that the boy also had Down syndrome.
The autopsy report from Clark County ultimately attributed the boy's death to "a result of blunt force injuries," and considered the manner of death a homicide.
Kingman Police Department's spokeswoman Jennifer Sochocki confirmed that the coroner's report does say this, but said that a doctor's report provided by Kingman Regional Medical Center found a second fracture near the base of the skull.
Sochocki said that both fractures occurred "in the same time frame," as the boy would not have survived either incident.