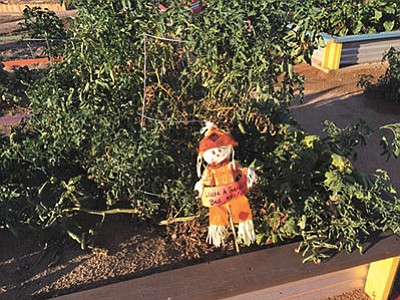 Originally Published: November 5, 2015 6:02 a.m.
American Legion Family of Post 14: This week the kitchen team will begin its Fiesta Friday meals, with this week's menu featuring pork carnitas, refried beans, rice and flour tortillas for $5 per plate beginning at 5 p.m. The Post will be hosting the first Saturday breakfast with chicken and waffles, hash brown casserole, fruit salad, muffins, coffee/tea/juices for $6 per plate from 8-9:30 a.m. Then stay downtown for the Veterans Parade that begins at 10 a.m. The Unit's general meeting will be at 5:30 p.m. Tuesday and we will have Veterans Day activities on Wednesday beginning at 6 a.m. with reveille club at the Post, the annual ceremony at the cemetery at 11 a.m., and the Chili Challenge back at the Post at noon has been changed to a Chili Potluck which is open to the public with donations of $1 per bowl being requested. Your Legion family will be represented at the fall conference in Tucson this weekend.
The next meeting of the At-Risk Veterans Stand Down Committee is at 6 p.m. Wednesday in the Sunridge Assisted Living Facility, 839 Landon Drive, Bullhead City.
Belles of St. Mary's: 54 - the number of days left to make our mark for 2015. In the November segment, we have our Belles meeting (Tuesday); the Carrick musical tribute to Our Lady (Nov. 16); Day of Thanksgiving (to God) and First Sunday of Advent (Nov. 29). Whew! Our Belles meeting should be great fun - we are to assemble the raffle baskets and fill them with treasure. This is our one and only fundraiser - the monies that allow us to do our good works i.e. receptions for church events, visiting celebrities are fêted, and somber gatherings after a funeral service which are hosted by us ladies. By the by - have you seriously considered expanding your knowledge of our true and wonderful Catholic religion? The Thursday evening (7 p.m.) R.C.I.A. class is quite educational and entertaining. The recent letter written by Bishop Olmsted has been a shot in the arm to our Catholic men and women. The call for men to step up and be men as God intended should be met with a sigh of relief and a round of applause by women. God's perfect plan for the world He created has been "taken off the shelf," dusted off and spotlighted by our Bishop. If you choose not to read "Into the Breach," you are dooming your own future. Enough. Belles meeting next Tuesday, 6:30 p.m. - treats provided by Tera and company. Old faces, new faces, our dependable faces come together and share the burden and the fun.
Branch 260 Fleet Reserve Association meets at 1 p.m. the second Saturday of each month at VFW Post 2555, Golden Valley Highway 68 and Colorado Road.
Brunch Bunch Motorcycle Riders: The Brunch Bunch has no dues, no officers, no paperwork, no egos - we just ride Sundays and Wednesdays and have fun with like-minded friends. Meet at I-40 Exit 48 Chevron, 777 W. Beale St. at 8:30 a.m. Kickstands up at 9 a.m. For questions or information, contact Harley at (928) 530-2555 or visit us online at harley3787.wix.com/brunch-bunch-riders.
Cactus Cuties Lady Bikers Chapter: Interested in joining other lady motorcyclists with common interests of motorcycles and riding? There is a new Women in the Wind-Cactus Cuties Chapter in the Kingman, Golden Valley, Bullhead City and surrounding area! We meet the first Sunday of each month at 10 a.m. at Peggy Sue's Diner, 4305 Highway 68 in Golden Valley. Check out our website at www.womeninthewind.org or contact us at witwcactuscuties@yahoo.com or (702) 624-1160. We are also on Facebook: Women in the Wind - Cactus Cuties Chapter.
The Cerbat Garden Club welcomes guests at its meetings on the second Wednesday of the month from September through June. The garden club meets from 10 a.m.-noon in the fellowship hall of St. John's United Methodist Church at 1731 Kino Ave., Kingman. Our November program will be Kingman Superintendent of Parks Guy Reynolds speaking on "Soil Science, Basic Fertilizing, Irrigation Design and Troubleshooting." For more information, call Sandy at (928) 692-2778 or email us at cerbatgc@gmail.com. Visit our Facebook page and website www.cerbatgardenclub.org.
Conservative Republican Club of Kingman: On Nov. 16, CRCK welcomes Cathi Herrod, president of the Center for Arizona Policy. This is a meeting many months in planning. CAP is the foremost social conservative think tank in Arizona, and one of the most important in the U.S. They are the originators of over 136 bills that have been signed into law, including the Defense of Marriage Act. They are pro-life and pro-family, and have featured speakers at their events such as Dr. Ben Carson and Dr. Charles Krauthammer of Fox News. CAP events are usually held in Phoenix and can cost $250 and up per ticket, but the public is invited to meet Cathi Herrod for the usual price of $3 at CRCK meetings, with lunch optional and on your own. The event will be held at the Dambar Steakhouse, 1960 E. Andy Devine Ave. at 11:15 a.m. No reservations are required. The formal meeting starts at noon, and there will be plenty of time for questions. CRCK dues are $12 a year, anyone paying their dues at this or our December meeting will be paying for 14 months. A small gift is included as a token of our appreciation. For more info, call (928) 530-3637 or email lchiffmd@frontiernet.net.
Fraternal Order of the Eagles: Aerie meets first and third Thursday each month; officers 6:30 p.m., general 7 p.m. - all members welcomed. Auxiliary meets second and fourth Tuesday each month; officers 6:30 p.m., general 7 p.m. - all members welcomed.
Friday Duplicate Bridge: The results of the Oct. 30 game were: first, Shirley Lantz and Sandy Miles; second, Trey Gordon and Bert Leenhouts; and third, Julia Caughlin and Barbara Gracin.
Friends of the Golden Valley Library: The group will meet at 1 p.m. Saturday at the Golden Valley Library located at 2417 N. Verde Road. Come and support your community library. If you want to be a Friend it's $5 a year for individuals and families and $10 for businesses. A lifetime membership is $100. Meetings are held the first Saturday of the month at 1 p.m. except for the summer. Applications are available at the Golden Valley Library, but you don't have to be a member to come. The library is open 10 a.m.-1 p.m. Saturday, 9 a.m.-3 p.m. Tuesday and noon-6 p.m. Thursday from noon to 6 p.m. The phone number is 565-2989.
The Friends of the Library-Kingman: The annual meeting is at 1 p.m. Nov. 17 at at the library, 3269 N. Burbank Street. Elections for board members will be held and refreshments will be served. We will be emphasizing a membership drive and we encourage all members to bring friends who might be interested in joining and working with the Friends of Library. Awards and prizes will be given out.
The Kingman Area Toastmasters Group holds meetings from 5:45-6:45 p.m. the first and third Thursday of each month in the Kingman Regional Medical Center cafeteria meeting room. We provide a supportive and positive learning experience in which members are empowered to develop communication and leadership skills, resulting in greater self-confidence and personal growth. Joining Toastmasters will help you: become a better public speaker, overcome public speaking fears, "practice" presentations for other audiences, gain the confidence and courage to lead and have fun while learning, network and practice new skills!
Kingman AZ Computer User Group: Join us from 2-4 p.m. Sunday at the Kathryn Heidenreich Adult Center on Airway Avenue. There will be a presentation by Art Fuller regarding Windows 10, as well as a question and answer time regarding any problems you might be experiencing.
Kingman Cancer Care Unit: 2015 marks the 40th anniversary of the Kingman Cancer Care Unit as a community organization dedicated to the help and assistance of cancer patients and their families in Kingman and neighboring communities. The annual Kingman Cancer Care Unit Arts and Crafts Fair will be held Nov. 14-15 at the Mohave County Fairgrounds. It is the organization's major fundraiser. This year's fair will be held from 9 a.m.-5 p.m. Nov. 14 and 9 a.m.-4 p.m. Nov. 15. Admission is free. A parking fee of $2 will be charged. Over 150 vendors with handmade and specialty one-of-a-kind items will be for sale. Numerous concession vendors will also be on site. The annual Arts and Crafts Fair is a fun and unique event and at the perfect time to begin your holiday shopping. The Kingman Cancer Care Unit is a nonprofit volunteer organization. Our mission is to provide financial aid and moral support to the patients and their families during their hour of need. The Cancer Care Unit does not solicit donations through the mail and encourages local organizations to hold fundraising events on its behalf. Kingman Cancer Care Unit's support includes transportation to doctor visits, food and hotel accommodations, and health and personal equipment, just to name a few. Each year the Kingman Cancer Care Unit makes a donation to the University of Arizona for cancer research. Contact Penny White at (928) 757-3760 or email us at kingmancancerfair@yahoo.com for more information or to become a vendor.
Kingman Democratic Women's Club: The monthly meeting will start at 11:30 a.m. Wednesday at Calico's Restaurant, 418 W. Beale St. We are asking all members and guests to bring food donations for the Kingman Food Bank. Let all of us make sure less fortunate members of our community have food every day as well as the Thanksgiving holiday. The members of the Kingman community are invited to attend our meeting regardless of political affiliation. However, you must be a registered Democrat to join the club. The Kingman Democratic Women's Club extends to all our friends, neighbors and, most important, our military and first responders a warm, safe and peaceful Thanksgiving.
Kingman Elk's Lodge No. 468: The lodge meets every second and fourth Wednesday at 7 p.m. The Elks Veterans Day breakfast is this Sunday. Veterans and their spouses are invited to join us for a delicious complimentary breakfast buffet; the cost is $6 for other guests. State Sen. Kelli Ward will be the keynote speaker. The event starts at 9 a.m. Bingo is every Thursday starting at noon. Doors open at 10 a.m. Lunch is available. Lunch is served Monday through Friday from 11 a.m. to 2 p.m. Pizza or $1 tacos on Tuesdays from 5-7 p.m. with shuffleboard bowling as well. Friday nights, dinner is served from 5-7 p.m. Call (928) 753-2547 for more information on any of these events and follow Kingman Elks on Facebook for updates on all of the Lodge's activities.
Kingman Quilter's Guild: 9 a.m. every Wednesday at the College Park Baptist Church, 1990 Jagerson Ave. The cost is $1 and the meetings are open to the public. We sew and quilt during this time. For more information, contact Shirly Johnson at (928) 757-8703.
Kingman Tennis Club: We have evening walk-in tennis at 5 p.m. on Mondays and Wednesdays now at Centennial Park. Morning walk-in tennis has changed to starting at 9 a.m. on Saturdays beginning Oct. 31 at the tennis courts in Centennial Park. The cost is $2 for members and $3 for non-members. Wear tennis shoes and bring a racquet. Our club provides the tennis balls and pays the court fees. We will place you in a doubles match based on your skill level. Beginners are welcome and we will assign someone to help you get started. For more information, contact Brooke Fix at (928) 753-5684.
Kingman Pinochle Club: The results for the Oct. 31 games were: first, Shirley Costain; second, Flo Ragsdale; and third, Marilyn Tiner. For more information about the club or to come play with us, call Connie at (928) 681-4934.
Korean War Veterans of Mohave County: The group meets at 1 p.m. the first Saturday of every month at the VFW on John L Street. Turn on John L Street off of Bank Street. Join us, one hour of your time to honor the Vietnam vets also. We are of the few who are left and we welcome your support.
The Kingman Order of the Eastern Star Chapter. No. 17: The group made a cash donation of $250 along with needed items for the homeless from OES members to the Cornerstone Mission. Pictured left to right are Linda Hattrick, Worthy Matron; Carol Greene, Community Service Chairman; Morgana Campbell, crisis committee; Debi Burrows, OES member; Grant Veile, Worthy Patron; Pat Bazner and Teresa Fuller, OES members. Members of the Eastern Star are welcome to attended stated meetings held at 7 p.m. the first Thursday of the month (dark July and August) at 212 N. Fourth St., historical downtown Kingman.
Living the Loss of Your Child Christ Care Grief Group: We meet on the first Wednesday of each month at 6 p.m. in the Golden Valley Baptist Church, 100 S. Higley Road, Golden Valley. Each year on the second Sunday in December, this year at 6:15 p.m. Dec. 13, we hold a candle lighting in conjunction with Compassionate Friends. We are preparing for the candle lighting this year and are now accepting pictures, information and messages for lost children for our Powerpoint presentation. Please come celebrate your child or loved one's life by lighting a candle and sharing a memory. Bring a special candle (or votives will be available), a small picture and a short memory to share about your loved one. For the Powerpoint presentation, email a picture along with a short message to your child or loved one, to cyndeazsun@yahoo.com with subject as "Candle Lighting Picture" by Nov. 28. For questions, contact: Cynde, (928) 856-0847; Angie (928) 716-9590; or Loretta (928) 715-6262. Hope to see you at the Candle Lighting! God bless! The meetings are open to those who have lost children or loved ones. The meetings are to share, show compassion and support, and encourage personal Christian growth during this most difficult time in our lives. Our main purpose is to care for others as Christ cares for us. For more information, contact Cynde Anthony at (928) 856-0847 or Angie Berg at (928) 716-9590.
Meadview Library Book Discussion Group: Meetings are at 10 a.m. on the third Friday of every even-numbered month (February, April, June, etc.) at the Meadview Library. The purpose of the discussion group is to promote reading and have a mature, interactive discussion with other readers about the chosen book. Meetings are one hour long. Stop by the Meadview Library and check out our next book selection to read and discuss, read the book at your leisure, then come to discussion.
The Mohave Community Choir: Is practicing for its Dec. 5 Christmas concert from 6:30-8 p.m. Thursdays at the LDS Church on Rutherford Street. All who like to sing are invited to attend. The choir is looking for men and women ages 16 and up to fill all parts: soprano, alto, tenor and bass. Come and join us. For further information, contact Andy Campagnuolo at (928) 757-5104.
Mohave County Genealogical Society: We welcomed Joni Alama as a new member. Our presenter was Deal who talked about her family research. She comes from a large family in Maine who originally came from Canada. The town they are from has an annual festival where they focus on one family surname and produce a book with the history and genealogy of that family. Other sources she mentioned were county clerks, historical societies, churches, city directories, local organizations and ethnic clubs, among others. A new free site for New York searches is nyshistoricnewspapers.org. A request was made for members to join the nominating committee for new officers. We will have elections in December. There will not be a regular meeting this month due to a special meeting this Saturday. We will meet again in December and visitors are welcome. We usually meet the second Wednesday of most months at 1 p.m. at the Mohave Museum of History and Arts, 400 W. Beale St., Kingman.
Mohave Republican Forum: The public is invited to the Mohave Republican Forum meeting Nov. 12 to hear Arizona Corporation Commissioners Susan Bitter Smith and Bob Burns speak and answer questions regarding what has and is happening with the Arizona Corporation Commission, its position on alternative energy sources, rates, and other matters it regulates and administers. Every individual, family and business are affected by the determinations they are making. This meeting will be held at the Golden Corral in Kingman, 3580 Stockton Hill Road. After going through the cashier, go to the meeting room to the left, after which you can help yourself to a buffet selection. The meeting room should be available by 4:45 p.m. or before and the program begins at 5:45 p.m. or before. There is an admission charge of $2 per person to assist with the meeting costs. For reservations, which are requested and helpful, or for further information, please contact Rita Basinger at (928) 692-4771, ritabasinger@citlink.net; Mary D'Angina at (928) 716-4053, nerah7@gmail.com; or Kathie Sturtevant at (928) 718-0891, kathie2547@gmail.com. Please note: our meeting changed from Wednesday evening to Thursday evening for this meeting only since Wednesday is Veterans Day with the veterans eating free at the Golden Corral from 5-9 p.m. and every seat being needed for that special event. Please pass this information on to others.
Teamster Retirees and Associates: The group meets the first Wednesday of each month at 302 Monroe St. (Moose Lodge) in Kingman. Friendly people, good conversation and food. For more information, call (928) 692-1071.
Thursday Party Bridge: The winners for Oct. 29 were: first, Coie O'Malley; second, Jerry Lipson; and third, Julie Caughlin.
TOPS 0551: Weight loss goals? Come join TOPS and Take Off Pounds Sensibly! Meet with us at 6 p.m. on Mondays, 2022 Golden Gate Ave. in Kingman. Contact Helen for more information at (928) 757-5631.
Wednesday Party Bridge: The winners for Oct. 28 were: first, H. Wayne Allred; second, Sandy Miles; and third, Dave Colfer.
Whistle Stop Railroad Club: The club established and operates the Kingman Railroad Museum for the city of Kingman and the enjoyment of its citizens. Come by and see what we have created. Better yet, come to our next club meeting at the museum at 9 a.m. Saturday and find out more about us. Potential new members and museum greeters are always welcome. In addition to railroad artifacts, historic displays and memorabilia, the museum has three exceptional model railroads. Club members are train fans and model railroaders with the purpose of preserving railroad history. The museum is located at 403 E. Andy Devine Ave. in the restored Santa Fe Railroad Depot and is open 10 a.m.-4 p.m. Wednesday through Sunday. For more information, call the museum at (928) 718-1440, visit our website at www.kingmanrailroadmuseum.com or see us on Facebook.
More like this story