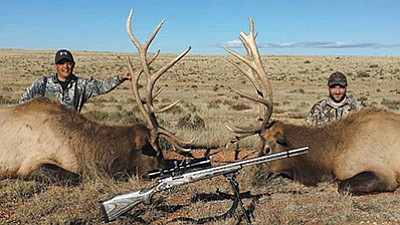 Originally Published: November 10, 2015 5:45 a.m.
It's interesting how things can change for different hunts in the same unit in northern Arizona in just a few weeks.
A couple weeks ago I was involved in a antlerless elk hunt in Unit 10 where, despite a number of shots being fired, not one out of eight tags in our camp were filled. I wrote a story about it. It was an elk hunt with plenty of ups and down.
Antlerless elk were few and far between, and rain for six out of seven days didn't help, but the bottom line was there just didn't seem to be very many elk in the area where we were hunting.
So when the 150 permit muzzleloader bull hunt started last Friday in Unit 10, and friends Ryan Chan and Socki Kogianes held tags there, I wasn't sure just how good it was going to be.
I offered to go up and glass for them, figuring extra eyes couldn't hurt.
I heard from Ryan's father Jay on Thursday that things weren't looking that great, that the weather was bad (had snowed), and that he (Jay) hadn't see an elk all day.
I finally made up Friday afternoon and set up on one of the favorite glassing points.
In a few minutes I saw a group of 8 elk, mostly cows and calves, with one raghorn bull with them.
Then I saw a HUGE group of elk; I counted close to a hundred, and there were lots of small rag-horn bulls in the herd.
I tried to find where Ryan and Socki were, and was told they were done. They had both taken 6x6 bulls out of that big herd and were heading back to camp.
I decided to sit and watch what the herd was doing as I listened and watched as two other hunters tried to get close to the feeding elk.
It was obvious that only one of the hunters had a tag, and was being assisted by an older son.
I watched and listened as a spotter sat on a faraway hill and told them what the elk were doing.
I call these folks the "eyes in the sky" and they are a huge help when elk or any game is out of view of hunters who are trying to close the distance for a shot.
It was getting very close to sunset and these two hunters were a long ways from the nearest road.
They managed to get to within 150 yards of the elk and the father took a shot.
The elk of course immediately took off and I listened as the spotter asked if they had hit one. One person answered they thought they had and were going over to look.
They walked to the area, did a cursory search and started walking away.
I never saw an elk stumble or fall, but elk are big animals and can and do often go long distances even after being mortally wounded.
I was disappointed to see these guys spend very little time in the area where the bull had been standing. I could only hope that the shot was a clean miss. I was back on the same glassing point the next morning and the hunters never showed back up to check for signs of a hit.
After sundown I went back to camp and found two very happy hunters.
I learned that they had found a big herd of elk at daylight, and had tracked and followed them for over seven miles during the day before they finally got into a good shooting set up.
There were no really big bulls in the group, and every bull had one or more points missing from their racks as a result of fighting during the recent rut.
Ryan decided he would take one of the bulls out of the herd and Socki offered up his muzzle-loader for him to use.
I should tell you that this is not a custom muzzleloader, anyone with a thousand dollars can get one from Remington, but it is equipped with a Huskemaw scope, which is a high-end and expensive rifle scope.
What makes this gun unique is that Socki has spent a lot of money and many hours on the range squeezing out the most accurate load that this gun and scope is capable of producing
The result is a muzzleloader than can easily and accurately be used out to 500 yards.
Yep, not your father's old cap lock smoke pole for sure.
Ryan settled in for a shot and when the bull cleared the others at a range of ... well let's just say it was farther than you might normally take a shot with a conventional muzzleloader, he fired a shot and the bull fell in its tracks.
The elk were confused at the shot and actually ran towards the hidden hunters.
Kogianes was able to reload the muzzleloader and dropped his first bull elk at a range of 200 yards.
Both bulls fell literally within 200 yards of each other. In all the years I've been hunting elk, I have never heard of that happening, especially on a muzzleloader hunt.
I also heard that Kingman residents Keith Walker and Chad Everett were also successful on their muzzleloader elk hunt in Unit 10, so gonna be a lot of elk meat in Kingman freezers this year!