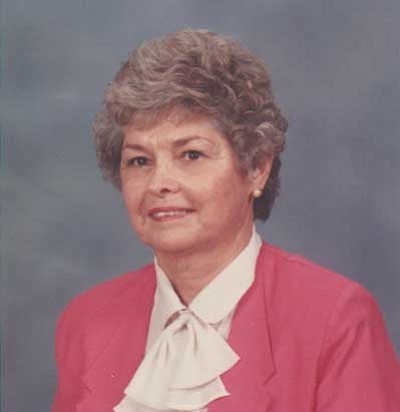 Originally Published: November 10, 2015 12:49 p.m.
Lorraine Richardson, 89, of Kingman, peacefully passed away Oct. 27, 2015.
Lorraine was born in Gallup, N.M., to her parents, Pete and Geneva Ortiz. She had one brother (Peter). She was married to James Richardson, also from Gallup. They were married in San Diego, where her husband was stationed during the war.
After the war, Jimmy and Lorraine moved back to Gallup with their newborn son. She raised three more children in Gallup before moving to Kingman in 1956.
Lorraine and her husband were the proud new owners of the Bell Motel on East Andy Devine, Route 66. Lorraine stayed at home and raised her children until they graduated from high school. She then started her career working for Kingman Regional Medical Center, worked as a legal clerk for the Mohave County Superior Court and finally worked as a substitute teacher coordinator for Kingman High School. She was active in many Kingman organizations and sororities, including the Arizona Heart Association. Nothing made her more proud than her service to St. Mary Catholic Church.
In 1998, she was nominated by her sorority, Beta Sigma Phi, and was inducted to the Women Making History in Kingman for religion.
Lorraine is predeceased by her parents, Pete and Geneva Ortiz; brother Pete Jr.; husband, Jimmy; and son-in-law Bill Bowers.
She is survived by her four children, Jim "Salty" (Mary) Richardson, Queen Creek, Ariz., Pat "Punchie" Richardson, San Diego, Calif., Karen (Mark) Rose, Henderson, Nev., and Shirley (Bill, deceased) Bowers of Kingman; 13 grandchildren; 21 great-grandchildren; and one great-great-grandchild.
A vigil viewing will be from 5-6 p.m. Thursday, followed by a Rosary Prayer service from 6-7 p.m. A funeral Mass will be celebrated at 10 a.m. Friday at St. Mary Catholic Church. A Christian burial service will follow at Mountain View Cemetery.