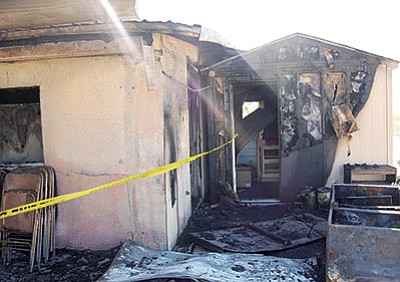 Originally Published: November 11, 2015 6 a.m.
DOLAN SPRINGS - The Dolan Springs Community Council is cooking dinner Saturday as a fundraiser for a pair of churches an arsonist victimized in September.
The cuisine will be Italian and the venue is the township's Community Center at Pierce Ferry Road and Edgemont in Dolan Springs. The cost is $5 for 13 and up, $3 for 5 to 12 and children under 5 are free.
Dinner is from 5 p.m. to 7 p.m. and includes lasagna, pasta-based sides, beverages and dessert, according to Sue Baughman.
For more information, call Baughman at (928) 716-3362.
An arsonist allegedly torched the Dolan Springs Baptist Church and Mount Tipton Community Church on Sept. 26.
Dolan Springs Baptist sustained heavy damage and Mount Tipton burned to the ground.
Last week, Mohave County Sheriff's detectives arrested James Earl Johnson, 78, in connection with the fires.